Browsers 2010
by Derek Purves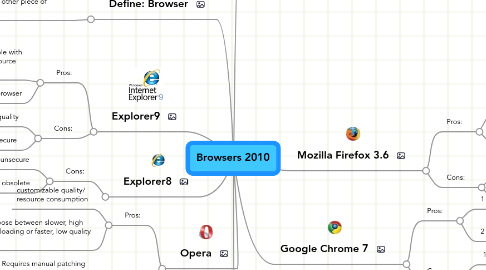 1. Define: Browser
1.1. A web browser is a software application for retrieving, presenting, and traversing information resources on the World Wide Web. An information resource is identified by a Uniform Resource Identifier (URI) and may be a web page, image, video, or other piece of content.
2. Opera
2.1. Pros:
2.1.1. customizable quality/ resource consumption
2.1.2. can choose between slower, high quality loading or faster, low quality loading
2.2. Cons:
2.2.1. Requires manual patching
2.2.2. Features may be more of a hassle then they are a plus
3. Google Chrome 7
3.1. Pros:
3.1.1. 1
3.1.1.1. Quick loading rate, with high quality and most compatible with HTML5
3.1.2. 2
3.1.2.1. Low resource use
3.2. Cons:
3.2.1. 1
3.2.1.1. slightly unstable, prone to crashes
3.2.2. 2
3.2.2.1. low addon support, low customization
4. Apple Safari
4.1. Pros:
4.1.1. Pleasant looking and user friendly
4.1.2. Fast searching/download rates with high quality browsing
4.2. Cons:
4.2.1. heavy resource consumption
4.2.2. mostly exclusive to Apple computers, the windows version has performance issues.
5. Mozilla Firefox 3.6
5.1. Pros:
5.1.1. 1
5.1.1.1. Top rated security
5.1.2. 2
5.1.2.1. largely compatible with numerous addons and websites
5.2. Cons:
5.2.1. 1
5.2.1.1. Requires a large amount of resources
5.2.2. 2
5.2.2.1. Several Scripting issues
6. Explorer9
6.1. Pros:
6.1.1. Highly compatible with HTML5, low resource consumption
6.1.2. Most widely used internet browser
6.2. Cons:
6.2.1. low quality
6.2.2. unsecure
7. Explorer8
7.1. Cons:
7.1.1. low quality, unsecure
7.1.2. obsolete
8. Sources
8.1. All sources must be from October/Nov 2010; use this search: http://bit.ly/cwWsuW ; minimum 5 sources, collaborative effort
8.1.1. Shorten your URLs at the following link:
8.1.2. http://bit.ly/
8.2. http:
8.2.1. http://bit.ly/9ds3L2
8.3. http:
8.3.1. http://bit.ly/aZ6W2U
8.4. http:
8.4.1. http://bit.ly/94ITeS
8.5. http:
8.5.1. http://bit.ly/cjfcrr
8.6. http:
8.6.1. http://bit.ly/9K8MJ8