Kara Blackstone PC Operating Systems
by Kara Blackstone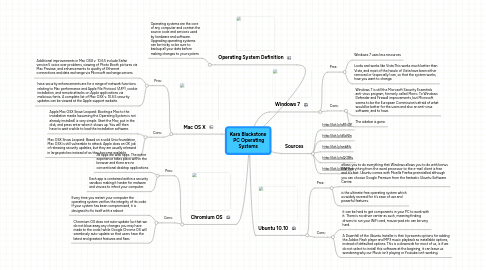 1. Operating System Definition
1.1. Operating systems are the core of any computer and contain the source code and services used by hardware and software. Upgrading operating systems can be tricky so be sure to backup all your data before making changes to your system.
2. Windows 7
2.1. Pros:
2.1.1. Windows 7 uses less resources
2.1.2. Looks and works like Vista.This works much better than Vista, and most of the hassle of Vista have been either removed or (especially) can, so that the system works, how you want to change.
2.2. Cons:
2.2.1. Windows 7 is still the Microsoft Security Essentials anti-virus program, formerly called Morro. To Windows Defender and Firewall improvements, but Microsoft seems to be the European Commission's afraid of what would be better for the users and also an anti-virus software, and to have.
2.2.2. The sidebar is gone.
3. Ubuntu 10.10
3.1. Pros:
3.1.1. allows you to do everything that Windows allows you to do with bonus that everything from the word processor to the e-mail client is free and it's fast. Ubuntu comes with Mozilla Firefox preinstalled although you can choose Google Premium from the fantastic Ubuntu Software Centre
3.1.2. is the ultimate free operating system which us widely revered for it's ease of use and powerful features.
3.2. Cons:
3.2.1. it can be hard to get components in your PC to work with it. There is no driver center as such, meaning finding drivers to run your WiFi card, mouse-pad etc can be very hard.
3.2.2. A Downfall of the Ubuntu Installer is that it presents options for adding the Adobe Flash player and MP3 music playback as installable options, instead of defaulted options. This is a downside for most of us, is if we do not select to install this software at the begining, it can leave us wondering why our Music isn't playing or Youtube isn't working.
4. Chromium OS
4.1. Pros:
4.1.1. All apps are web apps. The entire experience takes place within the browser and there are no conventional desktop applications
4.1.2. Each app is contained within a security sandbox making it harder for malware and viruses to infect your computer.
4.2. Cons:
4.2.1. Every time you restart your computer the operating system verifies the integrity of its code. If your system has been compromised, it is designed to fix itself with a reboot
4.2.2. Chromium OS does not auto-update (so that we do not blow away any changes you may have made to the code) while Google Chrome OS will seamlessly auto-update so that users have the latest and greatest features and fixes
5. Mac OS X
5.1. Pros:
5.1.1. Additional improvements in Mac OSX v. 10.6.5 include Safari version 5 voice over problems, viewing of Photo Booth pictures via Mac Preview, and enhancements to quality of Ethernet connections and data exchange via Microsoft exchange servers.
5.1.2. hese security enhancements are for a range of network functions relating to Mac performance and Apple File Protocol (AFP), cookie installation, and remote attacks on Apple applications via malicious fonts. A complete list of Mac OSX v. 10.6.5 security updates can be viewed at the Apple support website.
5.2. Cons:
5.2.1. Apple Mac OSX Snow Leopard: Booting a Mac to the installation media (assuming the Operating System is not already installed) is very simple. Start the Mac, put in the disk, and press enter when it shows up. You will then have to wait a while to load the installation software.
5.2.2. Mac OSX Snow Leopard: Based on a solid Unix foundation, Mac OSX is still vulnerable to attack. Apple does an OK job of releasing security updates, but they are usually released in large patches instead of as they become available.
6. Sources
6.1. http://bit.ly/aR5jGP
6.2. http://bit.ly/d5xNIn
6.3. http://bit.ly/anb8Iy
6.4. http://bit.ly/aQOBfu
6.5. http://bit.ly/2WFPoI