Browsers 2010
by
sonia avina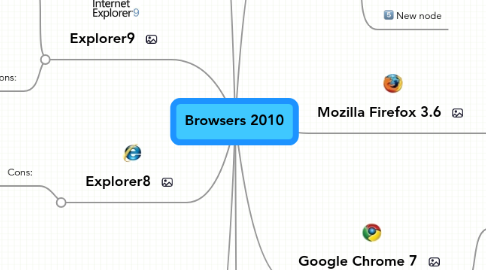 0.0
stars -
0
reviews range from
0
to
5
Browsers 2010
Opera 10.63
Pros:
1, Opera claims it's latest offering, Opera 10.5 Stable, to be the fastest Browser on Earth for Windows.
2, Opera's SVG library now becomes throttled engine for Opera's graphics throughout.
Cons:
1, Crash when removing custom settings folders
2, Opera Link freezing on startup
Google Chrome 7
1, Google Chrome launches immediately.
2, Search the internet directly from the address bar.
Cons:
1, Installation and update issues (Windows)
2, Google Chrome crashes (Windows)
Apple Safari 5
1, Software Update checks for available updates.
2, The Software Update feature in Mac OS X makes it very easy to determine and get exactly what you need.
Cons:
1, Safari can't open the page when logging in to Hotmail account
2, Long delay before webpages load, then load suddenly at normal speed
Mozilla Firefox 3.6
1, Available in more than 70 languages - get your local version.
2, Support for a new type of theme called Personas, which allow users to change Firefox's appearance with a single click.
Cons:
1, Poorly designed or incompatible extensions can cause problems with your browser, including make it crash, slow down page display, etc.
2, the browser not starting, windows with strange or distorted appearance, degraded performance, etc,
Explorer9
1, IE9 has a perfect score in no less than five categories, 100% for attributes, audio, foreigncontent, video and xhtml5, results unmatched by any other browser.
2, IE9 confines the problem to one tab, allowing you to close the tab and continue browsing without disrupting your work.
Cons:
1
2, IE9 scored the lowest out of the five browsers on http://www.html5test.com., Smaller screens, may have problems with tabs sitting alongside the address bar.
1, Removed Internet Explorer 8 without warning.
2, A reboot is required as part of the installation process.
Define: Browser
A web browser is a software application for retrieving, presenting, and traversing information resources on the World Wide Web.
Sources
minimum 5 sources, collaborative effort; only most recent versions as shown:
Shorten your URLs at the following link:
http://bit.ly/
http:
http://bit.ly/50Ft1m
http:
http://bit.ly/9K8MJ8
http:
http://bit.ly/gyKXUu
New node
New node