'The ideal of human rights is not universal. Discuss.'
by Tim Scholl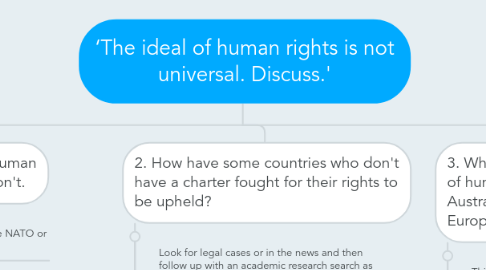 1. 1. What countries have a 'human rights charter' and which don't.
1.1. are they a part of a larger body like NATO or UN?
1.2. The Universal Declaration of Human Rights http://www.un.org/en/universal-declaration-human-rights/
2. 2. How have some countries who don't have a charter fought for their rights to be upheld?
2.1. Look for legal cases or in the news and then follow up with an academic research search as well as journal articles from countries.
2.2. Huffington Post - 10 Worst Countries for Human Rights http://goo.gl/0tHk3B
2.3. Odhikar - Bangladesh Human Rights http://odhikar.org/
3. 3. Which country has an ideal set of human rights? Look at Australia, America, Countries in Europe and compare them.
3.1. This is looking to find an answer to the question - what do 'ideal human rights look like?'
3.2. Countries with top human rights http://goo.gl/xsDynQ