Easter Seals
by Melissa Jichici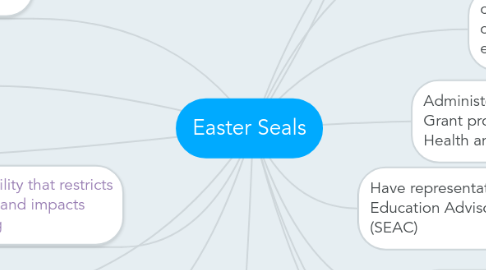 1. Easter Seals is a registered charitable organization that helps children and youth with physical disabilities from all ethnic and religious backgrounds.
2. Goal: To provide programs and services to children and youth with physical disabilities across Ontario to help them achieve greater independence, accessibility and integration.
3. Eligibility criteria:
4. children under the age of 19 years
5. Legal resident of Ontario
6. Has a long-term disability that restricts independent mobility and impacts activities of daily living
7. Must use a mobility device (e.g., walker, wheelchair) for mobility
8. Eligibility does not extend to children with a primary diagnosis of developmental disabilities such as Autism, or a correctable condition.
9. promotes and creates awareness for disability and accessibility issues
10. offer scholarships to people with disabilities for post secondary education
11. Administers the Incontinence Supplies Grant provided by the Ministry of Health and Long-term Care
12. Have representatives on the Special Education Advisory Committee (SEAC)
13. Provide links to further community resources
14. Own and operate 2 summer camps, and provide (free) camp experiences for children and youth with disabilities
15. Provides financial assistance of up to $3000 per child per year to help pay for mobility equipment (e.g., wheelchair, ramp)
16. Services offered include: