SPEAKING (Units 0-3)
by Mª del Mar Delgado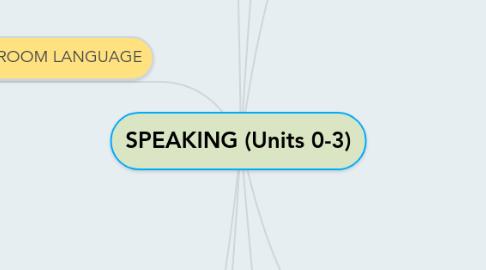 1. GREETINGS AND INTRODUCTIONS
1.1. Hello, (Mrs Smith). This is (Kate).
1.2. Hi, (Kate). Welcome to our school.
1.3. Are you new here?
1.4. Yes, I'm from (Denmark).
1.5. This is my friend (David).
1.6. Hi, I'm (Kate).
1.7. Nice to meet you.
1.8. Is this (06-431978)?
1.9. Yes, it is. Who's calling?
1.10. Hello, (Mrs White). This is (Kate).
1.11. Can I please speak to David?
1.12. Sorry, he isn't here. Call again later, (Kate)
2. CLASSROOM LANGUAGE
2.1. Can you spell this word, please?
2.2. Can you explain this to me, please?
2.3. Can I borrow a (pen), please?
2.4. When is the English exam?
2.5. Have you corrected the exams yet?
2.6. Have you got the marks/grades?
2.7. What page are we on?
2.8. I'm sorry. I'm late. May I come in?
3. A PERSONAL INTERVIEW
3.1. How many (brothers and sisters -siblings- have you got?
3.2. What are your favourite (school subjetcts)?
3.3. What (after-school activities) do you do?
3.4. How often do you (do sport)?
3.5. Where does (your mother/father) work?
3.6. What's the (weather) like where you live?
4. WHERE DO YOU LIVE?
4.1. Do you live in a house or a flat?
4.2. What's your address?
4.3. What floor do you live on?
4.4. Have you got a garden?
4.5. How many rooms have you got?
5. DESCRIBING A PICTURE
5.1. There are (two girls in white clothes).
5.2. The (policeman) looks (very tired).
5.3. There's a (robot) and a (band) in the picture.
5.4. I can see (three girls) and they're (riding a bike).
5.5. In this picture a (man) is (wearing a blue shirt).
5.6. The (students) are (looking into the microscope)
6. WHAT DO YOU LIKE?
6.1. Do you enjoy (performing in the band)?
6.2. What do you think of the (history lessons)?
6.3. What's your favourite (activity)?
6.4. Do you prefer learning (French) or (Portuguese)?
6.5. Do you want to learn (computer science)?
6.6. I don't like (sport) and I can't (swim)
6.7. I love (drawing).
6.8. I like them both. I'm both at (languages).
6.9. I don't mind (doing experiments) but I prefer (building models)
6.10. I really like (performing in concerts), but I hate (playing the piano at home)
7. BUYING A GIFT
7.1. Does that sound like a good idea?
7.2. How much do you want to spend?
7.3. Let's get (them)!
7.4. Let's buy (it)!
7.5. It's quite (expensive).
7.6. How about this (ring)?
7.7. That's a great idea.
7.8. I don't think so.
7.9. What do you want to buy for ((Mum)?
7.10. These are very (pretty).
7.11. I agree. / I disagree.
7.12. What do you think of this (watch)?
7.13. That looks (cool).
8. WHAT SIZE ARE YOU?
8.1. Can I help you?
8.2. Have you got any (red tights)?
8.3. Are there any (trendy belts)?
8.4. What size are you?
8.5. Have you got my size?
8.6. Which colour do you prefer?
8.7. How much are the (hangbags)?
8.8. Who is it for?