New York City is the center of the world.
by Andrew M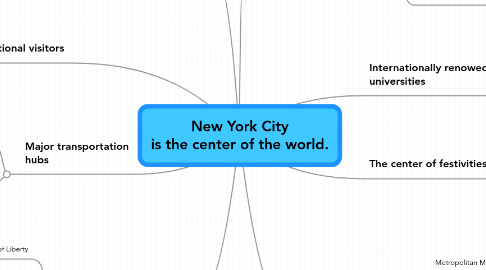 1. Doing the world's business
1.1. NYSE
1.1.1. Home to the world's largest stock exchange
1.2. Wall Street
1.2.1. According to Cinco Dias, New York controlled 40% of the world's finances by the end of 2008, making it the largest financial center in the world
2. International visitors
2.1. United Nations
2.1.1. Assembles the world's leaders for international cooperation
2.2. Ellis Island
2.2.1. Welcomed generations of immigrants from around the world to America's shores
3. Culture
3.1. Art
3.1.1. Metropolitan Museum
3.1.1.1. Houses some of the world's most famous and valuable works of art
3.1.2. Guggenheim
3.1.2.1. Its architecture alone, designed by Frank Lloyd Wright, is world famous
3.2. Theater
3.2.1. Broadway
3.2.1.1. Setting the standard for excellence in drama and musicals; launching productions that travel the globe
3.3. Fashion
3.3.1. Fashion Week
3.3.1.1. The world looks to New York for guidance about what is the latest and greatest in men's and women's clothing
4. Immortalized in the media
4.1. Television Shows with New York as its backdrop
4.1.1. "Today Show"
4.1.2. "Sex and the City"
4.1.3. "Saturday Night Live"
4.2. Iconic Movies with New York as its backdrop
4.2.1. King Kong
4.2.2. Superman
4.2.3. Annie Hall
4.2.4. Coming to America
4.2.5. Wall Street
5. Iconic public spaces
5.1. Statue of Liberty
5.1.1. Literally a beacon representing America's unique mission as the convocation of all the world's people
5.2. Empire State Building
5.2.1. For years, the world's tallest building and a symbol of the modern world
5.3. Grant's Tomb
5.3.1. As a grand monument to the Civil War leader who kept the country intact, this is a testament to the strength of the American experiment
5.4. Central Park
5.4.1. A vast public space that inspired many others around the world
6. Internationally renowed universities
6.1. New York University
6.1.1. Growing international presence
6.2. Columbia University
6.2.1. Large international presence; huge draw among international students
7. The center of festivities
7.1. Macy's Thanksgiving Day Parade
7.1.1. A symbol for the world about America's famous holiday
7.2. New Year's Eve in Times Square
7.2.1. An internationally recognized symbol of the new year
7.3. Lighting of the Rockefeller Center Christmas Tree
7.3.1. A tradition known the world over
8. Major transportation hubs
8.1. Grand Central Terminal and Port Authority
8.1.1. Largest train station in the world and busiest bus station in the world
8.2. JFK, Newark, LaGuardia Airports
8.2.1. Three of the busiest airports in the world -- all in one city; you can get to anywhere in the world from New York