CHAPTER 14: DEVELOPING MERCHANDISE PLANS
by Mina Medhat Mahdy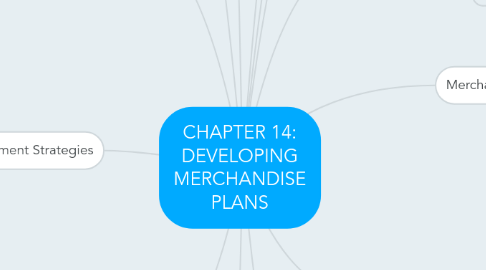 1. Merchandising
1.1. Activities involved in acquiring particular goods/ services and making them available at the places, times, prices, and quantities that enable a retailer to reach its goals.
2. Merchandising Philosophy
2.1. Sets the guiding principles for all the merchandise decisions that a retailer makes
2.2. t should reflect • Target market desires • Retailer's institutional type • Market-place positioning • Defined value chain • Supplier capabilities • Costs • Competitors • Product trends
3. Scope of Merchandising Responsibility
3.1. Full array of merchandising functions • Buying and selling • Selection, pricing, display, customer transactions OR • Focus on buying function only
4. Micromerchandising
4.1. Retailers adjust shelf-space allocations to respond to customer differences and other differences among local markets
5. Cross-Merchandising
5.1. Retailers carry complementary goods and services to encourage shoppers to buy more.
6. Merchandising and Store Functions Performed
6.1. o Merchandising view
6.1.1. All buying and selling functions • Assortments • Advertising pricing • Point-of-sale displays • Employee utilization • Personal selling approaches
6.2. o Buying view
6.2.1. Buyers manage buying functions: • Buying • Advertising • Pricing • In-store personnel manage other tasks: • Assortments • Point-of-sale displays • Employee utilization
7. Figure 14-5: Devising Merchandise Plans
8. Forecasts
8.1. These are projections of expected retail sales for given periods • Components: • Overall company projections • Product category projections • Item-by-item projections • Store-by-store projections (if a chain)
9. Types of Merchandise
9.1. Staple merchandise
9.1.1. Regular products carried by a retailer • Grocery store examples: milk, bread, canned soup • Basic stock lists specify inventory level, color, brand, style, category, size, package, etc.
9.2. Assortment merchandise
9.2.1. Apparel, furniture, automotive, and other categories for which the retailer must carry a variety of products in order to give customers a proper selection • Decisions on assortment • Product lines, styles, designs, and colors are projected • Model stock plan
9.3. Fashion merchandise
9.3.1. Products that may have cyclical sales due to changing tastes and life-styles
9.4. Seasonal merchandise
9.4.1. Products that sell well over nonconsecutive time periods
9.5. Fad merchandise
10. Retail Assortment Strategies
10.1. Width of assortment refers to the number of distinct goods/service categories (product lines) a retailer carries. Depth of assortment refers to the variety in any one goods/service category (product line) a retailer carries. An assortment can range from wide and deep (department store) to narrow and shallow (convenience store).
11. Advantages of Private Labels versus National brands
11.1. Store loyalty– A 1 percent increase in private label purchasing increases a retailer's market share of a household's purchases by 0.3 percent. A 10 percent increase in private label purchases, increases that retailer's market share of that household by 3 percentage points. • Differentiation strategy- Opportunity to differentiate store on the basis of recipe, styling, value, features. • Increased channel power over suppliers— Depends on strength of private label versus national brand • Higher profit margins on private labels- 25 to 30 percent higher (but no return privileges, co-op promotions, slotting fees, and warehousing support).
12. Successful Private Label Strategies
12.1. Be a purchasing agent for consumers, not a selling agent for suppliers • Develop distinctive products (Trader Joe's wild salmon in a can, chocolate-covered sunflower seeds, pretzels with sesame seeds (instead of salt) • Co-brand with famous designer (Target with Michael graves, Mossimo and Liz Lange) or with national brand (Costco and Starbucks, Jelly-Belly, StonyField) • Taste and product perfromance testing (Costco, Trader Joe's, Aldi) • Tell a story about the product (ingredients, source, recipe, and health).
13. Category Management
13.1. Category management is a merchandising technique used to improve productivity. • It is a way to manage a retail business that focuses on the performance of product category results rather than individual brands. • It arranges product groupings into strategic business units to better meet consumer needs and to achieve sales and profit goals. • Retail managers make merchandising decisions that maximize the total return on the assets assigned to them.