2020 - Top Ten Productivity Tools for Information Workers
by Colin McNicol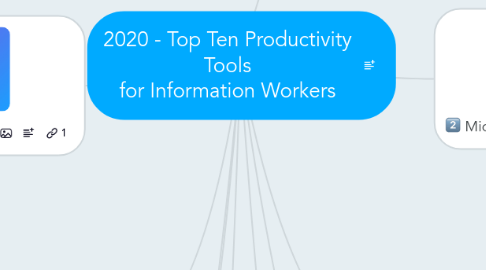 1. Trade IT
2. Microsoft To-Do
2.1. Useful To-Do App
2.2. Works with Outlook
2.3. Integrates with MS Planner
3. DropBox
3.1. Share files with external stakeholders
3.2. Keeps external users out of your corporate domain
3.3. Popular, so familiar to many
3.4. Just seems to work
4. Seth Godin's ShipIT Notebook
4.1. Great Quality Notebook
4.2. Includes helpful prompts to get your project done and delivered!
4.3. Benefits of writing over typing
4.4. Get it at MOO
5. Grammarly
5.1. Checks spelling, grammar and writing style
5.2. Chrome extension for blog posts, social media, etc.
5.3. Much better than standard spell check
5.4. Saves lots of time proofing when you are working to a deadline
5.5. Saves some howlers if you struggle with spelling or grammar!
5.6. Works with MS Word & Outlook too
6. IFTTT
6.1. Automate Tasks based on conditional statements
6.2. Great for posting content to Social Media
6.3. Lots of ready made recipes to use
7. Snagit
7.1. Capture and Edit Screens
7.2. Does scrolling screen captures
7.3. Create How-To Sheets and Training Docs
7.4. Video Capture
8. Mind Mapping with MindMeister
8.1. Mind Mapping
8.2. Project Planning
8.2.1. Agile
8.2.2. Traditional Waterfall
8.3. Brainstorming
8.4. Business Planning
8.5. Event Planning
8.6. Marketing Campaign Planning
8.7. More About Mindmeister
9. Microsoft OneNote
9.1. Freeform Notes
9.2. Outlook Integration
9.3. Draw/write and Record notes
9.4. Syncs Across Devices
9.5. Integrates with Teams
9.6. Search across multiple notebooks
9.7. Get with Office 365 or Free Version
10. Microsoft Teams
10.1. Create teams across departments and even countries
10.2. Integration with SharePoint
10.3. Great for ad hoc project meetings
10.4. Manage and curate project docs/tasks/plans
10.5. Works even for solo-preneurs
11. Affinity Photo
11.1. Quickly Crop & Resize Images
11.2. Fast Cut-outs
11.3. Supports lots of graphics formats
11.4. Simple to use for basic editing tasks
11.5. Supports Layers
11.6. Windows & MAC versions
11.7. No Subs - one off Purchase