PITTSBURGH PENGUINS KIOSK
by Steven Till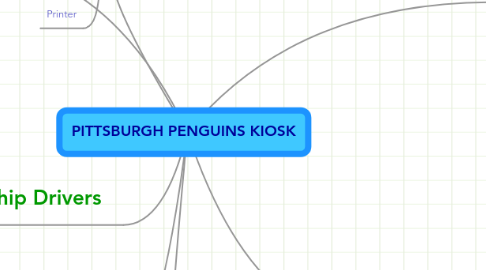 1. General Thoughts
1.1. Ticket Scanning
1.1.1. Virtual Usher
1.1.2. Stadium Maps
1.1.3. Prizes
1.1.4. Giveaways
1.1.5. Coupons
1.1.6. Ticket Tracker
1.2. Local Information
1.2.1. Weather
1.2.2. Traffic Reporting
1.3. Video Recording
1.3.1. Record video to display on scoreboard
1.3.2. Send video to friends
1.3.3. Video may be used in commercials
1.3.4. Video may be used on website
1.4. Social Networking
1.4.1. Tie in popular social networking aspects from the internet
1.5. Emergency Use
1.5.1. Report accidents/problems
1.5.2. Expand senior citizen services
1.5.3. Request arena shuttle for elderly
1.5.4. Summon help/arena security to kiosk location
2. Development
2.1. Modularity; possibly clustering for identity and management
2.2. New nodeVideo Recording/Storage
2.3. Rotating Video Advertisement
2.4. Multi-purpose software for events
2.5. Ticket scanning
2.6. Printer
3. Sponsorship Drivers
3.1. City focused sponsorship
3.2. Ability to reach out to small business sponsors
3.3. Wide array of sponsorship levels
3.4. Awareness in the new Penguin Arena
3.5. Casino Sponsorship
3.6. Attraction
3.6.1. Video
3.6.2. Advertisements
3.6.3. Sponsorship
3.6.4. Hockey Trivia
4. Reasons for Use "Why would I use the kiosk?"
4.1. Weather Reporting
4.2. Traffic Reporting
4.3. Giveaways
4.4. Prizes
4.5. League News and Statistics
4.6. Coupons
4.7. Merchandise Discounts
4.8. Contests
4.9. Youth Hockey Information
4.10. Ticket Scanner
4.11. Chance to get on the scoreboard
4.12. Email a video of yourself to a friend
4.13. Virtual Tour of the stadium
4.14. Highlights
4.15. Roster Information
5. Kiosk Deployment
5.1. Possible Layouts
5.1.1. Multiple Kiosk Stations
5.1.2. Kiosk grouping or clustering
5.2. Types of Kiosks
5.2.1. Luxury Kiosk Stations
5.2.1.1. Embedded user experience stations in luxury areas allows food ordering, customer services, league information and will include a "Fan Experience camera".
5.2.2. Static Content Stations
5.2.2.1. Wide screen televisions stations deliver targeted advertising, quizzes, information etc…
5.2.2.2. Video attract loops to gain kiosk brand interest.
5.2.3. Fan Experience Stations
5.2.3.1. Video Stations to collect fan interactions to be played on the scoreboard, used as commercial assets
5.2.3.2. Hockey History
5.2.3.3. Arena History and Facts
5.2.3.4. What defines the Pittsburgh Sports Culture?
5.2.3.5. Pittsburgh History
5.2.3.6. Send to Cell Phone sends ringtones, images, etc. to fan's cell phone.
5.2.3.7. Suggest a Mike Lang catch phrase
5.2.3.8. Vote on a player of the year/player of the game/All Star player
5.2.3.9. Criticize the official(s) in a fun way
5.2.4. Youth-Focused Stations
5.2.4.1. Promote Youth Hockey
5.2.4.2. Youth-focused content
5.2.5. Customer Service Stations
5.2.5.1. Virtual Usher: Maps, Locations, Vending, Concessions, Merchandise
5.2.5.2. Weather
5.2.5.3. Local Traffic Report
5.2.5.4. Arena Services
5.2.5.5. Event Schedule
6. Links
6.1. Kiosks.com
6.2. The Godfrey Group
6.3. KMY
6.4. KIS
6.5. NanoNation: Products
6.6. NanoNation: Case Study 1
6.7. NanoNation: Case Study 2
7. Purpose
7.1. Entertainment
7.2. Educational
7.3. Informational
7.4. Sponsor-Driven