Injustice
by Hannah Schalyo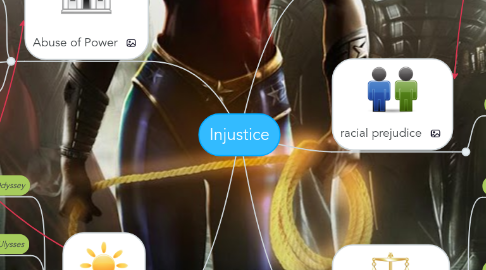 1. wrongful convictions
1.1. Zeitoun
1.1.1. Abdulrahman Zeitoun, the Syrian-American owner of a painting and contracting company and was was arrested without reason or explanation at one of his rental houses.
1.1.2. Zeitoun
1.2. The Crucible
1.2.1. Many innocent people the the crucible were tried without reason and falsely convicted for an unnatural event that people were scared to take responsibility for.
1.2.2. The Crucible
2. racial prejudice
2.1. To Kill A Mockingbird
2.1.1. Tom Robinson is but on trial for raping a girl even though he did not do it. He ultimately loses the trial mainly because he his black.
2.1.2. To Kill a Mockingbird
3. Social injustice
3.1. Of Mice and Men
3.1.1. Both Lennie and George set out to fulfill their american dream but ultimately do not make it due to their lower social status and well, Lennie's lower mental status that causes his death in the end.
3.2. Huck Finn
3.2.1. Huck flees his home and also the social injustice he views within the town. however, he comes to find that this problem is evident in almost every town he visits after. Jim is also trying to escape slavery.
3.2.2. Adventures of Huckleberry Finn
3.3. Grapes of Wrath
3.3.1. Treated unfairly due to their lower economic and social status in society
3.3.2. The Grapes of Wrath
3.4. The Outsiders
3.4.1. Characters are unjustly treated and already have quite a lot of prejudices against them.
4. Abuse of Power
4.1. Hunger Games
4.1.1. In the hunger games, children are forced by the corrupt capital to compete to the death in order to maintain the peace throughout the districts and provide the capital with entertainment for a couple of months. Nothing like good ol reality tv.
4.1.2. The Hunger Games
4.2. Macbeth
4.2.1. Abuse of power due to the prophecy
4.3. Animal Farm
4.3.1. Abuse of power from the pigs. also social injustice
5. Religion
5.1. The Odyssey
5.1.1. In the Odyssey and the Adventures of Ulysses, Ulysses must face the wrath of the gods for his "attack" on Poseidon. not really fair and he misses his fam.
5.1.2. Odyssey
5.2. Adventures of Ulysses
5.3. The Book Thief
5.3.1. All three of these books deal with the events of the holocaust which can be look at as one of the most unjust events in human history. can be tied to social injustice and abuse of power.
5.3.2. The Book Thief
5.4. Night
5.4.1. Night
5.5. Diary of Anne Frank
5.5.1. The Diary of Anne Frank