Cloud Computing for Non-profits by Omar Uddin
by
Omar Uddin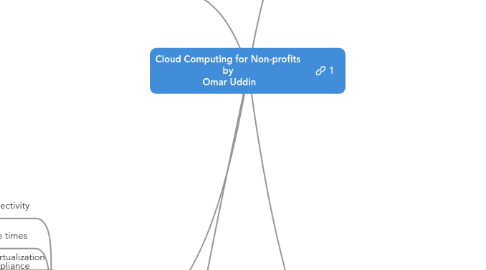 5.0
stars -
2
reviews range from
0
to
5
This is probably the best way to start mind mapping the topic of cloud computing. There are several ways to describe the general term 'cloud computing'.
Delivery of a range of IT capabilities as an externally sourced service.
A style of computing in which dynamically scalable and often virtualized resources are provided as a service over the Internet.
Dramatically transforming the delivery of IT services and creating broad access to high end computing solutions.
Why Should Non-profits Care ?
Unless you have specific reasons to stay away from specific or all forms of cloud computing (such as privacy, laws, regulations etc), there are truly many reasons why organizations should consider researching cloud computing. Here are some reasons why non-profits should care about cloud computing.
Save
Focus
Flexibility
Choice
Capacity
Security
Upgrades
Ongoing Investment
Convenience
Efficiency
Collaboration
Types
The landscape of cloud computing has become vast and often complex for non-IT experts to consider exploring. This is not an exhaustive list or definition rather examples of the types of cloud computing solutions you can hope to find for your organization.
Storage
Infrastructure
Platform
Applications
Computing
Hybrid
Risks
Every new technology carries risk and even though there are many benefits of cloud computing, the risks should clearly be understood and mitigated through identification and planning. A vendor or partner can help you figure out the risks if you don't necessarily have IT support in house.
Loss of connectivity
Service levels and response times
Regulatory Compliance
Backup failures
Security concerns
Availability
Dependence on third party companies
A roadmap for your non-profit
To help your organization consider the cloud computing landscape, here is a guide or roadmap to helping your organization consider evaluation or adoption of cloud computing products and solutions.
1. Develop a strategy and plan
2. Assess and audit internal business processes
3. Assess capacity, budget and critical needs
4. Review potential options
5. Engage a partner or solutions provider
As with many technology solutions,  applications available in the cloud  can be implemented by your organization  or by a partner. To determine which  option is best for you, consider  the cost of your time, the importance  of accountability, and the value  of ensuring everything is done  right the first time. If you don't  have time for trial and error,  consider working with an experienced  partner who can streamline the  process and get you up and running  painlessly.