Academic Reading and Writing Essentials & Strategies
by Margarita Araque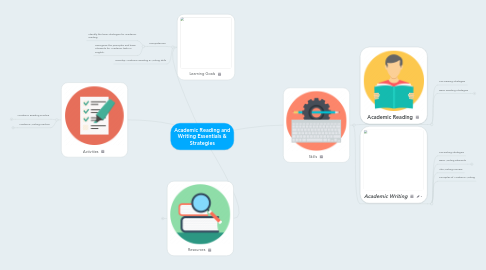 1. Learning Goals
1.1. Competences
1.1.1. Identify the basic strategies for academic reading.
1.1.2. Recognise the principles and basic elements for Academic texts in English.
1.2. Develop Academic Reading & Writing skills
2. Resources
2.1. Lesson
2.2. Previous English Courses
2.3. Online Activities
3. Activities
3.1. Academic Reading Practice
3.1.1. Evaluation Criteria
3.1.1.1. Student focused on facts or specific information
3.1.1.2. Student identified the main ideas in the text.
3.1.1.3. Student grouped main ideas into meaningful clusters
3.2. Academic Writing Practice
3.2.1. Evaluation Criteria
3.2.1.1. Student applied principles for academic writing
3.2.1.2. Student fully answered the task.
3.2.1.3. Student evidenced proper use of vocabulary for academic writing.
3.2.1.4. Student provided with a coherent and cohesive academic text.
3.2.1.5. Student followed writing steps for academic writing
4. Skills
4.1. Academic Reading
4.1.1. Pre-viewing Strategies
4.1.2. Basic Reading Strategies
4.1.2.1. Skimming
4.1.2.2. Scanning
4.1.2.3. Semantic mapping or clustering
4.2. Academic Writing
4.2.1. Pre-writing strategies
4.2.2. Basic Writing Elements
4.2.2.1. Writing a Sentence
4.2.2.2. Writing a Paragraph
4.2.2.3. Patterns of Organization
4.2.2.4. Transition/Linking Words
4.2.3. The Writing Process
4.2.4. Principles of Academic Writing