THE SECOND WAVE OF GLOBAL E-BUSINESS
by Shamalaa d/o Panneerselvam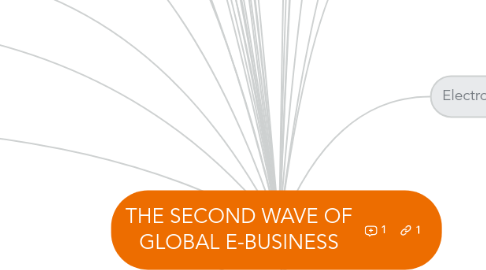 1. Electronic Commerce and Electronic Business
2. Categories of Electronic Commerce
3. Electronic Commerce
4. Dot com(pure dot-com
5. Business Processes
6. Activity
7. Transaction
8. Elements Of Electronic Commerce Relative sizes of elements, Dollar volume and number of transactions, Number of Transaction.
9. Consumer to consumer(c2c) Business To Government(B2G)
10. ThE DeVeLopMenT And GrOwTh Of ElecTrOniC cOmmErCe
11. -People engaging in commerce Adopt available tools and technologies
12. Internet
13. Electronics Funds Transfer (EFTS) EXamples : Wire transfers
14. Electronic Data Interchange (EDI) Standarads transmitting formats benefits.
15. Trading Partners Improved purchasing processesand supplier relationships
16. The Second Wave Of Electronic Commerce
17. Regional Scope Start up Capital Internet Technologies used
18. Electronic mail(email) ,Revenue source , Digital product sales , Business online strategy.
19. The Third Wave Begins
20. Businesss Models, Revenue Models , and Business Processes -Business Model -Electronic Commerce first wave and Revenue mODAL....
21. ElectrONIC COMMERCE: CAUTIONS AND CONCERNS POOR CHOICES OF ELECTRONIC COMMERCE
22. Cultural and legal concerns
23. Economics study the how people allocate scarce resources
24. Commerce Organizations participate in markets
25. Organization hierarchy(flat or many levels)
26. Transactions costs
27. Market and Hierarchies Coase's analysis of high transactions costs
28. Using Electronic Commerce to Reduce Transaction cost. Electronic commerce. e.g employment transactions
29. NETWORK EFFECTS. Law of diminishing returns. e.g hamburger.
30. email account examples Internet email accounts Need a way to identify business process
31. SWOT ANALYSIS STRENGHT, WEAKNESS, OPPORTUNITIES AND THREATS
32. Take advantages of opportunity Build on strenght Avoid threats and compensate for weakness.
33. LANGUAGE ISSUES Think globally, act locally separate dialect provide local language versions of Web site
34. Cultural Issues
35. Infrastructure issues Bonded Warehouse internet infrastructure global problems
36. Culture and Governments Online discussions inhospitable to culture environment,