Natalie Hernandez Smartphones
by
Natalie Hernandez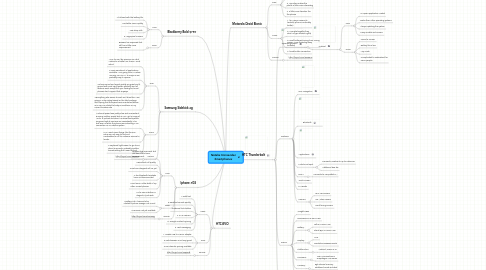 0.0
stars -
0
reviews range from
0
to
5
Natalie Hernandez Smartphones
This is just a demo map that you can delete right away, if you feel like it...
HTC Thunderbolt
Operating system
Android, Pros:, An Open application Market, Faster than other operating systems, Always updating the system, Many models and carriers, Cons:, Prone to viruses, Battery life is low, May crash, Complicated to understand for some people.
Features
GPS Navigation
Bluetooth
Applications
Mobile Hot Spot, Connects Wireless to up to 8 devices, Additional $20 fee
DNLA, Connects to compatible TV
Touch Screen
FM Radio
Camera, 8MP HD camera, HD Video camera, Front facing camera
SPECS
Weight:5.8oz
Dimensions:4.8"x2.6"x.05"
Battery:, Talk:6.3 Hours Max, Stand By:312 Hours Max
Display:, LCD, Resolution:480x800 Pixels
Platform/OS:, Android Version 2.2.1
Processor:, 100 MHZ Qualcomm Snapdragon MSM8655
Memory:, 8gb internal memory additional 32Gb included
Modes:, CDMA/LTE
Sources:
http://www.phonescoop.com/
Blackberry Bold 9780
Pros:
At its best with the battery life.
Has better voice quality
Less drop calls
5 Mega-pixel Camera
Cons:
Browser has improved, but still has a little more improvement.
Iphone 3GS
Pros:
Browser has improved, but still has a little more improvement.
2.Excellent call quality
3.Not one dropped call, as yet
4.The bluetooth headsets have not disconnected
5.Not once, unlike both of my other current phones
6.The user interface is elegant! It just work.
Cons:
1.Battery Life- It seems to be related to phone useage, not e-mail.
2.TomTom not yet available
Source:
http://tinyurl.com/5r29a5g
HTC:EVO
Cons:
1.Solid feel
2.Excellent sounds quality
3.External lock button
4. 8 MP camera
5. Google Contact Syncing
6. Text messaging
Pros:
1. Needs USB to 3.5mm adapter
2.Web browser is not very good
3.No calender syncing available
Source:
http://tinyurl.com/3z3podk
Samsung Sidekick 4g
Pros:
1.Fun to use, like previous SK's but Android is a better OS choice I must admit.
2.Nice assortment of applications available- I am going from a MotoQ running WinMo 6.1 to Froyo so am probably easy ti impress.
3.Phone sound and signal quality are great and it synced with Ford Sync system perfectly and all features work except the Sync texting but most phones don't support that anyways
4.Everything else seems to work as it should so i am giving a 4 star rating based on the total package and hoping that the speed issue mentioned below as a Can's is related to today's conditions or my current location.ode
Cons:
1.Internet speed was pretty slow and inconsistent. Running Ookla's speed test on 4G I got a range of .39 to .9 upload and about .56 download speeds. Ping was high at over 500 ms consistently. This test was run while the phone was indicating a 4G connection on T-Mobile's system
2.As I said, some things, like the PoP setup are not easy to find and necessitated a call to customer service to locate.
3.Keyboard lights seem to go dim in about 2 seconds- probably another buried setting that i need to find.
Source:
http://tinyurl.com/6xro5ue
Motorola Droid Bionic
Pros:
1. Android Os is impressive
2. Stock browser is pretty decent!
3. App store makes the phone a little more interesting
4. a little more freedom the the iphone
Cons:
1. for a 3mp camera its terrible( iphone is noticably better)
2. a couple bugs(but hey what 1st gen doesnt right?)
3. small buttons!(coming from a wing owner, i miss those big boxy buttons!)
4. terrible data connection.
Source:
http://tinyurl.com/3xeg2u4