SmartPhone
by Daisymarie ballesteros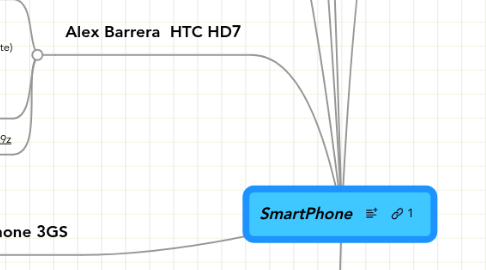 1. Christopher Avarelo BB Bodd 9780
1.1. Pros: -Battery Life (wow!) I wish my other 2 phones lasted this long! -Display is bright and clear -Menus are easy to navigate and more than one way to get to things. -Smooth track pad -Fast processor -OS 6 (wish all BB's had this) is easy to use -Simple compared to most other devices -Durable (I have a 4yr old) -Syncs easily with other devices (BT) -Customizable home screens and fonts -Easy to unlock for use on outside networks -UMA -Support for 32G SD Card -Sync with iTunes library -Great camera -Proprietary (this is a Con for me as well) -Easy to fix bugs within the software (App Loader is awsome for this)
1.2. Cons: -Someone should give a day class on using these things. The OS 6 is easier to work with than other models but I'm a former iPhone user and it has been a major learning curve for me. -Still working on compatibility issues with MAC OS (Please RIM fix this) -Not too many applications are compatible with this model yet (sure this will change soon)
1.3. http://tinyurl.com/3atykte
2. Natalie Hernandez Thunderbolt
2.1. Pros : Screen. I'm outside now. I can read, type well. If I get a glare, just tilt a little. Camera. Great colors. Love the auto compress to send photos. And videos. Web access. Great to open several pages. And to go back & forth between them. Saves a lot of time. Copy & past works great. Flash player, big improvement. Adobe reader is great to. Love being on the phone, and finishing up paper work. Great for us multi tankers. Key board. Less type O's. For me anyway, and I type faster.
2.2. Cons : Battery life. Improvement for me though. I now only charge the phone 3xs a day instead of six. I can't create folders unless I put SD card in pc. Just one extra step I didnt need. Occasionaly my web access turns itself off. Not WiFi, but mobile access.
2.3. http://tinyurl.com/43lb3xx
3. Myriah Cypriano Samsung Sidekick 4G
3.1. New nPros: Fun to use, like previous SK's but Android is a better OS choice I must admit. Nice assortment of applications available - I am going from a MotoQ running WinMo 6.1 to Froyo so am probably easy to impress. Phone sound and signal quality are great and it synced with my Ford Sync system perfectly and all features work except the Sync texting but most phones don't support that anyway. Everything else seems to work as it should so I am giving a 4 star rating based on the total package and hoping that the speed issue mentioned below as a Con is related to today's conditions or my current location.ode
3.2. Cons: Internet speed was pretty slow and inconsistent. Running Ookla's speed test on 4g I got a range of .39 to .9 gbs upload and about .56 download speeds. Ping was high at over 500 ms consistently. This test was run while the phone was indicating a 4g connection on TMobile's system. As I said, some things, like the PoP setup are not easy to find and necessitated a call to customer service to locate. Keyboard lights seem to go dim in about 2 seconds - probably another buried setting that I need to find. Volume key is on the bottom, right where I grab the phone when picking it up so I have to be careful not to turn it down accidentally.
3.3. http://tinyurl.com/6xro5ue
4. Alex Barrera HTC HD7
4.1. Pro's - Huge and nice 4.3 inch screen - Feels good in hand and great build quality - Kickstand is a nice feature - The WP7 keyboard is the nicest one out (especially on an 4.3 inch screen) - The UI is very original, easy to navigate fluid, and responsive - Zune Player - Marketplace is growing rapidly - Good battery life (Way better than any Android phone I've used)
4.2. Con's - Not of T-Mobile's 4G network - Loading time on games are slow most of the time (hopefully they fix this on the next update) - No Mobile Hotspot or teathering option - Speaker is not very loud - The physical buttons on the phone aren't really that great - Camera quality isn't that great either
4.3. http://tinyurl.com/4xtfv9z
5. Rubaya Hiabib Iphone 3GS
5.1. The good - - Reception is as good as my Tilt and Nokia - Excellent call quality - Not one dropped call, as yet - The bluetooth headsets have not disconnected - not once, unlike both of my other current phones - The user interface is elegant! It just works. I miss the speed-dial, but I'm getting used to the "Favorites".
5.2. The bad - - Battery life - It seems to be related to phone useage, not e-mail (I'm on an Exchange-Server, and have real-time push during the work-day).
5.3. http://tinyurl.com/5r29a5g
6. The phone I would get would be an IPhone, because it has a lot features I like. The iPhone is a line of Internet and multimedia-enabled smartphones designed and marketed by Apple Inc. Proven, easy-to-use multitouch user interface -Great high-resolution display (on the iPhone 4) -FaceTime, front-facing camera (on iPhone 4) -App Store with millions of applications, many of which are free -Best web browser in its class -It's now the "de facto" standard which other modern phones try to imitate.
7. Daisymarie ballesteros Evoke QA4
7.1. Messaging
7.1.1. Email Client
7.1.2. Instant Messaging
7.1.3. MMS
7.1.3.1. New node
7.1.4. Text Messaging (SMS)
7.1.4.1. http://tinyurl.com/cm27qo
7.2. Productivity
7.2.1. Alarm
7.2.2. Calculator
7.2.3. Calender
7.2.4. To-Do-List
7.2.5. Voice Memo
7.2.5.1. http://tinyurl.com/cm27qo
7.3. Photo & VIDEO
7.3.1. Camara
7.3.2. Video Capture
7.3.2.1. http://tinyurl.com/cm27qo
7.4. Music
7.4.1. Headphone Jack
7.4.2. Music Player
7.4.2.1. http://tinyurl.com/cm27qo
7.5. Memory
7.5.1. Memoery Card Slot
7.5.1.1. http://tinyurl.com/cm27qo
7.6. Input
7.6.1. Side Keys
7.6.2. Text Keyboard
7.6.2.1. http://tinyurl.com/cm27qo
7.7. Data Network
7.7.1. Data Tethering
7.7.2. Flight Mode
7.7.3. High-Speed Data
7.7.3.1. http://tinyurl.com/cm27qo
7.8. Contacts
7.8.1. Picture ID
7.8.2. Ringer ID
7.8.3. voice dialing
7.8.4. Custom Graphics
7.8.5. Custom Ringtone
7.8.6. Real Music Ringer
7.8.6.1. http://tinyurl.com/cm27qo
7.9. Features
7.9.1. GPS/ Location
7.9.2. Digital TTy
7.9.2.1. INS to insert (Windows)
7.9.2.2. TAB to insert (Mac OS)
7.9.2.3. ENTER to add siblings
7.9.2.4. DEL to delete
7.9.2.5. All key shortcuts
7.9.3. Multiple language
7.9.4. Polyphonic ringtone
7.9.5. Vibrate
7.9.6. Blue tooth
7.9.6.1. http://tinyurl.com/cm27qo
7.10. specs
7.10.1. New node
7.10.1.1. Modes
7.10.1.2. Weight
7.10.1.3. Dimensions
7.10.1.4. Form Factor
7.10.1.5. Battery
7.10.1.6. Display
7.10.1.7. Platform/OS
7.10.1.8. Processor
7.10.1.9. Memory
7.10.1.10. Phone Book Capacity
7.10.1.11. FCC ID
7.10.1.11.1. http://tinyurl.com/cm27qo
7.11. Software
7.11.1. Games
7.11.2. Java (J2ME)
7.11.2.1. http://tinyurl.com/cm27qo