Tips & Trends for Using the Cloud in Your Teaching
by
Keri Jones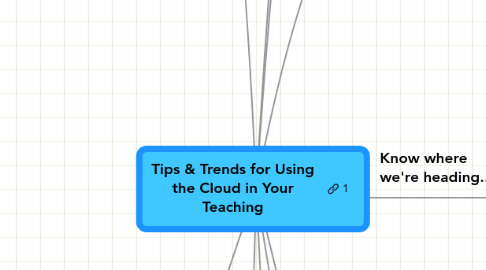 0.0
stars - reviews range from
0
to
5
Collections by type
http://mashable.com/2007/06/27/video-toolbox/
http://mashable.com/2007/06/19/blogging-toolbox/
http://mashable.com/2007/07/04/podcasting-toolbox/
http://www.mindmeister.com/12213323/best-online-collaboration-tools-2010-robin-good-s-collaborative-map
Web 2.0 Collections
Content-Related Collections
Educause: 7 Things You Should Know Series
Know where we're heading....
Horizon Report
Learn to Love Standards
NETS for Teachers
DESE ICT Standards
Keep Learning-but do it for free and on your own terms!
Professional Development
Be confident in your purpose and plan
Have a clearly articulated Purpose
Know what you are assessing
Know how you will assess it.
Technology Integration Planning
Don't take on the world... pick and choose based upon your comfort level and context.
Start with a single application
Find a good starter collection of resources and work within it
Think outside the box…how does technology change the game?
The Flipped Classroom
Open Educational Resources
Project-Based Learning
Bloom's Taxonomy
New Learning Theory? Connectivism
Use technology to make using technology easier
Get Organized with Social Bookmarking
Don't Re-invent the wheel
Top 20 Sites No Teachers Should start the Year Without
Productivity Resources
Manage Resources/Student Access
Plagiarism Detector
New node