EFFLORESCENCE, DELIQUESCENCE,EXSICCATION AND DESICCATION
by Stella Peter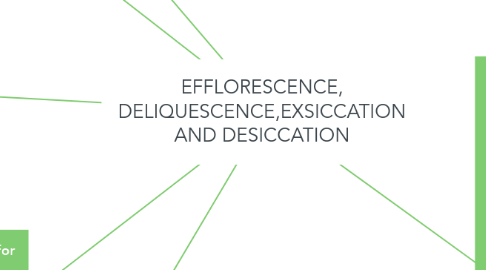 1. EFFLORESCENCE = The loss of water ( or a solvent ) of crystallization from a hydrated or solvated salt to the atmosphere on exposure to air DELIQUESCENCE = A process in which a soluble subtance picks up water vapor from the air to form a saturated solution. EXSICCATION = The act of operation of dying ; evaporation or expulsion of moisture ; state of being dried up ; dryness. DESICCATION = A desiccant is a hygroscopic subtances that induces or sustains a state of dryness ( DESICCATION ) in a moderately well-sealed container. HYGROSCOPIC= Is the ability of a subtances to attract water molecules from the surrounding environment through either absorption or adsorption.
2. EXAMPLE OF EFFLORESCENT = Citric acid , Ferrous sulphate , Sodium phosphate EXAMPLE OF DELIQUESCENT = Ice , Calcium chloride , Magnesium oxide , Magnesium chloride
2.1. STORAGE =Because of their affinity for atmospheric moisture deliquescent materials may need to be stored in sealed container.
2.2. PROPERTIES = 1. These compounds are used in the chemical industry to remove the water produced by chemical reactions, to increase the yields.
3. HYGROSCOPIC SALTS
3.1. EXAMPLE = Pepsin , Bromine , Hakides of ammonium, Pottasium citrate
3.2. PROPERTIES = Zinc chloride and calcium chloride , as well as pottasium hydroxide and sodium hydroxide are so hygroscopic that they readily dissolve in the water they absorb.
3.3. STORAGE = Because of their for atmospheric moisture hygroscopic materials may need to be stored in sealed container.
4. DECANTATION = Is a process for the separation of mixtures, carefully pouring a solution from a container , leaving the precipitate ( sediments ) in the bottom of the container.
5. TYPES OF DESICCANTS
5.1. 1.SILICA GEL DESICCANT , 2. INDICATING SILICA GEL DESICCANT , 3. CLAY DESICCANT , 4. CALCIUM OXIDE DESICCANT , 5. CALCIUM SULFATE DESICCANT , 6. MONTMORILLONITE CLAY , 7. MOLECULAR SIEVE DESICCANT
6. SILICA GEL = Is a granulat, vitreous , highly porous form of silica made synthetically from sodium silicate.