Making your teaching more effective through technology
by Heidi Lee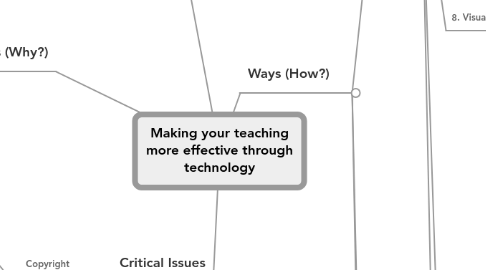 1. Reasons (Why?)
1.1. Development of New "Literacies"
1.1.1. Traditional literacy
1.1.2. Visual literacy
1.1.3. Information literacy
1.1.4. Critical literacy
1.1.5. Media literacy
1.1.6. Tool literacy
1.1.7. Digital literacy
1.1.8. Social networking literacy
1.1.8.1. Ability to interact with other is cyberspace in specific ways that are ethical, beneficial to other and beneficial to self
1.1.8.2. Developing strategic alliances and engaging is use of collaborative tools
1.1.8.3. Awareness of dangerous as well as responsibilities, knowledge of socially acceptable behavior in cyberspace
1.1.8.4. Understanding privacy issues
1.1.8.5. Bullying
1.2. Increase teacher effectiveness
1.3. Improve learning of subject matter content
1.4. Enable assessment for learning
1.5. Make learning more relevant for students
1.6. Empower research activities
1.7. Transformation of practices
1.8. Increase global/regional competitiveness
1.9. Create distance learning opportunities
2. Critical Issues
2.1. Copyright
2.1.1. Use of image
2.1.2. Use of audio
2.1.3. Use of resources from internet
3. What?
3.1. E-learning
3.1.1. distance learning
3.1.2. blended learning
3.1.3. technology integration in a classroom
4. Ways (How?)
4.1. Tools
4.1.1. 1. Blog
4.1.1.1. Uses
4.1.1.1.1. Sharing
4.1.1.1.2. E-learning
4.1.1.2. Target people
4.1.1.2.1. For students
4.1.1.2.2. For teachers
4.1.1.2.3. For schools
4.1.1.2.4. For parents
4.1.1.3. Resources
4.1.1.3.1. Blooger
4.1.2. 2. Mindmap
4.1.2.1. Uses
4.1.2.1.1. Collaborative learning
4.1.2.2. Resources
4.1.2.2.1. Mindmeister
4.1.3. 3. Google Docs
4.1.3.1. Uses
4.1.3.1.1. Share document
4.1.3.1.2. Collaborative learning
4.1.3.2. Resources
4.1.3.2.1. Google Docs
4.1.4. 4. WebQuest
4.1.4.1. Uses
4.1.4.1.1. Interactive learning
4.1.4.1.2. Resources
4.1.5. 5. Active Lessons
4.1.5.1. Uses
4.1.5.1.1. Student-centered learning
4.1.5.1.2. Tools to help to create active lessons
4.1.6. 6. Digital Media Projects
4.1.6.1. Digital Story
4.1.6.1.1. Tools
4.1.6.1.2. Delivery Method
4.1.6.1.3. Resources
4.1.7. 7. Goggle site
4.1.7.1. Uses
4.1.7.1.1. Sharing
4.1.7.1.2. Blogging
4.1.7.1.3. E-learning
4.1.7.2. Resources
4.1.7.2.1. Google site
4.1.7.3. Target people
4.1.7.3.1. For students
4.1.7.3.2. For teachers
4.1.7.3.3. For schools
4.1.7.3.4. For parents
4.1.8. 8. Visual contents of learning
4.1.8.1. Visual content
4.1.8.1.1. Non-computer based
4.1.8.1.2. Computer based
4.1.8.2. Resources
4.1.8.2.1. Photo story
4.1.8.2.2. Scratch
4.1.8.2.3. Others
4.1.9. 9. Mobile phone and M-Learning
4.1.9.1. Tools
4.1.9.1.1. Multimedia Access Tool
4.1.9.1.2. Connectivity Tool
4.1.9.1.3. Capture Tool
4.1.9.1.4. Representational Tool
4.1.9.1.5. Analytical Tool
4.1.9.2. Some Examples
4.1.9.2.1. ipod
4.1.9.2.2. NDS
4.1.9.2.3. PDA
4.1.9.2.4. ebooks
4.1.10. 10. Classroom Management tool
4.1.10.1. Uses
4.1.10.1.1. monitor students
4.1.10.1.2. distribute information
4.1.10.1.3. student-teachers interaction
4.1.10.2. Resouces
4.1.10.2.1. Junglebyte
4.2. Basic Requirment
4.2.1. Access to internet
4.2.2. Access to computer
4.2.3. Access to other technologies
4.2.4. Access to softwares
4.3. Methods
4.3.1. 1. Harvesting
4.3.1.1. Google
4.3.1.2. Beyond Google
4.3.1.2.1. Wikipedia
4.3.1.2.2. Different search engine
4.3.1.2.3. Delicious
4.3.1.2.4. Social bookmarking
4.3.1.2.5. Mindmaps
4.3.1.2.6. Youtube
4.3.1.2.7. RSS feeds
4.3.1.2.8. Podcast
4.3.2. 2. Mashing
4.3.2.1. Mixing and re-mixing existing resources and media to create new resources