Fourteen Categories of Disabilities as Identified by IDEA
by Roxann Granger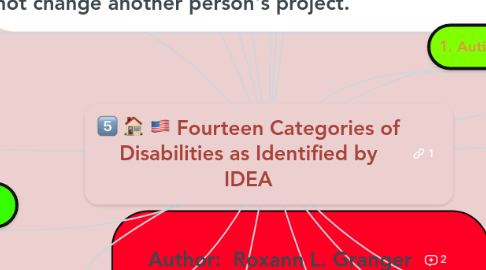 1. 1. Autism
2. 2. Deaf-Blindness
3. 3. Deafness
4. 4. Developmental Delay
5. 5. Emotional Disturbance
6. 6. Hearing Impairment
7. 7. Intellectual Disability (formerly known as Mental Retardation
8. 8. Multiple Disabilities
9. 9. Orthopedic Impairment
10. 10. Other Health Impairment
10.1. 11. Specific Learning Disability
11. 12. Speech or Language Impairment
12. 13. Traumatic Brain Injury
13. 14. Visual Impairment Including Blindness
14. Low -Incidence Disabilities Mental Retardation Hearing Impairments Orthopedic Impairments Visual Impairments including Blindness Deaf-Blindness Deafness Other Health Impairments Developmental Delay Traumatic Brain Injury Autism Spectrum Disorders Moderate to Severe Intellectual Disabilities Multiple Disabilities
15. RESOURCES LIST:
16. High-Incidence Disabilities Speech and Language Impairment Learning Disabilities Emotional Disturbance Mild Intellectual Disabilities
17. Author: Roxann L. Granger
18. Click each little bubble within the green bubble to discover more information.
19. The person who stole and changed my work on April 14, 2020 is a thief! You have been reported to Emily at TeachNow. SHAME ON YOU! Do it the hard way like I did. Do your own work. I created every single bubble and message from scratch. I edited and typed every word and thought. I drew every line. And I did not change another person's project.