C-Malt
by
Simon Davis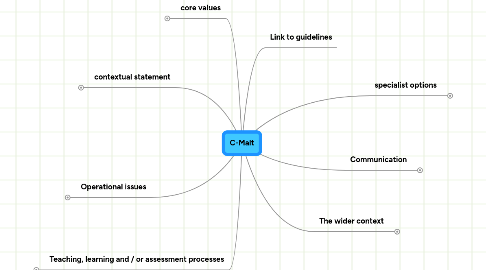 0.0
stars -
0
reviews range from
0
to
5
C-Malt
core values
interplay between technology and learning (pedagogy)
pedagocical slant to all work and technology
up to date with new technologies
attend conferences, subscribe to blogs, newsletters and mailing lists
empathy with and willingness to learn from colleagues from different backgrounds
collaborate with developers, designers, pedagogy experts. Understand needs of academics and explain technology in sensitive way
commitment to communication and dissemination
case studies, blogs, running sessions, conferences, online materials, hadnouts.
contextual statement
short biog
career history and current role
operational context in which I work
learning technologist in central service.
Support for academics
why applying to CMALT and impact on career expectations
recognition for work
meet with probabtion aims
meet aims of cpd and provide evidence
Organisational IIP standing
Look at job description
Operational issues
Understanding of the benefits of different technologies
teaching, podcasting or simple audio
supporting projects, Recoring lectures, Why taken this approach?, Viability, Immediacy, Sustainability, scalability, value for money, other routes thast could have been taken
technical knowledge and ability in the use of technology
Development of learning objects for Library, HTML CSS, Javascript interactions, Flash development, Sound design, pedagocial and useability advice - activity design, Evidence: screenshots and copies of e-mails, Interpretting and understanding the brief - owning the work., Briefing content developers
Supprting the deployment of learning technologies
podcasting, training, create training materials, at desk / trouble shooting support (POLIS, Carol in Careers, PLOT-casting), contributions to blog community
ways with audio and video, bespoke training to specialist audiences
Teaching, learning and / or assessment processes
Training design
podcasting, re-design following refelection and feedback, Lesson plan
Audacity, promote active learning, worksheets
Video, re-desing following reflection and feedback, Blog entry
Evidence 7407, Feedback forms
theory, experiential learning mixed with didactic information giving.
understanding of target learners
characteristics of academics, work based learners
What is thier motivation for coming?
what are the drivers. they are there volunarily or under duress
Often mix of abilities - how is this accommodated?
How deal with critical nature of academics?
Tailoring of courses to meet needs of groups - bespoke training sessions
Marketing to make clear outcomes and manage expectations
Can they do it when they leave the room? How do I know? Feedback, follow up etc. Final practical exercise.
Tailor activities to be able to be reproduced after session in choice of equipment to be used etc. Run throgh any installation requirements and where appropriate learners can obtain equipment, harware / software. Focus on free / open source software.
The wider context
copyright / intellectual property
Evidence: consent forms created
resources from video teaching
evidence: guidance produced for LUTube
Development of LUTube
accessibility
use of CSS / ensuring that materials created are accessible / alternative versions available
resources from video training
strategy map
PPP SIG
Communication
working with others
courseware developers network faciiltator
LUTube team member
BLG team member
Presenting to BLFG, e-learning forum
Presentations and sharing information with L&T team
Running SDDU sessions on using technlogy to open up new avenues for communcation.
Methods ofcommunication: standard etc, wikis, blogs, google talk, podcasting, presentations to groups, writing articles, plug in etc.
mailing lists
specialist options
training mentoring and developing others
training
developing, at desk support followingup from training or enquiries, POLIS, Carol from careers, PLOTcasting, Ghazala Mir
More intense project based work, Steve Green, Sue Fallon, Alison McKay, Edmund Linfield, Louise Mauborgne
acting as broker between academics and technology
Link to guidelines