MITE6330 Learning Design and Technology
by
sisi peng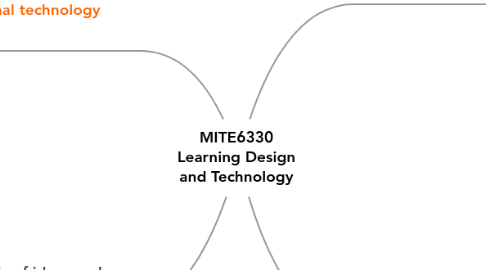 0.0
stars - reviews range from
0
to
5
Reading suggested metarials
session1
session2
session3
session4
session5
session6
session7
session8
Course reflection
Session1-design of learning / instructional design
Session2-Instructional Design Models and Analysis Stage of a Process
Session3-Design stage(1)
Session4-Design stage(2)
session5-Design stage(3)
session6-prototype
A working model and a representation of your final project Provides sufficient information to allow a client and the team to have glimpse into the final product
session7-web2.0 learning technologies
session8-design learning technologies for mobile learning
Synthesis of ideas and reflection
session1
My reflection Instructional design, literally explanation, is curriculum or content and learning activity design for teaching. In the contemporary market, there exist various forms of instructional products, such as CD-ROM, E-book, distance web teaching etc. but in my opinion, they should be referred as a subsidiary method of traditional face to face teaching. I have experienced distance learning of one English training class, this online class provided online lecture and after-class exercise for learners, the teaching system is closed to be perfect, but measured by instructional design theory, it just can be titled as a wonderful curriculum design because it didn't integrate any interaction.   Instructional product can promote Self-directed learning, and help students review and learn new knowledge out of textbooks. But a systematic and organized instructional product is hard to be designed, which needs a group of people working on it.   Besides, some people proposed that instructional design should be technology-based, I do not think so. Instructional design should be built on the content, in other words, it should be content-based and added external relevant resources for knowledge complementation and extension. In my mind, technology such as website can be used as a platform for learners' communication and knowledge exchanging. Also, Technology can make asynchronous learning come true(e.g. discussion forum)   What kind of instructional design can be titled as a perfect design? it should be evaluated by learners. As a student, I think there are some points should be taken into consideration: whether this instructional design can meet learners' learning demand and whether it has improved former teaching style. Whether students' learning passion are lighted.  
session2
My reflection Instructional design has experienced a few years, although it has improved a lot and tried to assist teaching, it still exists many shortcomings. I guess teachers may consider whether technology is so importance that it must be integrated into instruction. I have the same feeling about technology-position. As I am an ITE student, in every class, teachers introduce many software applications to us and ask us to apply them into teaching and curriculum design. I thought technology is needless for teaching sometimes, because some knowledge can be interpreted much easier by traditional teaching method than by technology (when we use technology to explain some phenomenon or concept, sometimes it brings much trouble to us and waste time). Because of the wrong technology position, instructional designers are facing a dilemma situation: technology-based design or content-based design. in my mind, designers should clear about learning objectives first, then according to curriculum outline to design. besides, instructional design should not only focus on content, but also concentrate on relevant activities, especially interactivity. As constructivist mentioned, learning would be more effective and efficient by mutual or group learning.
session3
  My reflection: Verbal-only instruction has taken a long history, which made students feel boring and tedious in class, even through, we still can not live without words interpretation due to it can clearly deliver key points of contents. According to the multimedia learning theory, some people considered about adding images, videos or some visual objects to improve and encourage learning. learning is for applying, but on the promise, knowledge needs to be memorized. Technically speaking, the sense organs have relationship with the function of memory. If people can use them together when learning, the effect will be surprising. Multimedia learning theory exactly complies with this medical hypothesis, so designers need to integrate and organize words and visual objects together to achieve effective and efficient learning. All in all, designer should grasp the features of human sense, using multiple forms for learning activity design. there proposed four basic building blocks(learning task, supportive information, just in time information and part task practice) for training programs for complex learning and their main foundation of learning theories is cognitive psychology.4C/ID model promotes learning by doing, task-based learning and focusing on performance. in my opinion, it is more effective and efficient for learning compared with only theories teaching. students need more practice rather than just sitting and listening. Besides, gaining know  
session4
My reflection: i am impressed on the example of medical case on problem-based learning which reminds me of Management Case Study in my previous major. i do agree that PBL is one of the greatest ways of effective learning which well combines theoretic knowledge and practice. in the process of PBL, students not only can memorize abstract concepts easily and deeply, but also apply knowledge to real world. it is really student-centered and self-directed learning.
session5
My reflection: on-line learning design should be considered from teacher's and student's perspective. the aim of online learning is to provide convenient, effective and efficient learning, so the content, activity and other things need to be designed suited to those two groups. in my opinion, task-learning or problem-solving learning is preferable, because knowledge seems to be valuable when it is applied into real life.   Besides, i realized resource-based learning is not just providing relevant resources and asking for reading, but should be constructed, integrated, gathered by various other segments(multiple resources need to be well connected to achieve a certain aim or learning objectives).resource-based teaching is not easy as we simply thought according to its literal comprehensive, but need to put efforts on kinds of resources organizing and collecting. until now, resource-based teaching and learning has not been perfect yet, it still has following weakness: standards and conventions for creating and distributing digital resources remain inconsistent; resource credibility, content validity, and reliability are unregulated(resource is often questioned);teaching and learning activities tend to address the scope of defined knowledge and skills across curriculum areas....
session6
  My reflection: Activity theory focuses on the activities in which people are engaged ,the tools they use, the social and contextual relationship among the collaborators, the goals and intentions, the outcomes of activities. all in all, the richer the context and the more embeded the conscious thought processes are in that context, the more meaning learners will construct both for the activities and the thought processes. Activity-based learning and teaching is a breakthrough of traditional pedagogy, which has switched total textbook instruction to student-centered teaching and self-directed learning. besides, activity-based teaching is more effective and efficient for students who can apply theoretical knowledge to real life problems solving. It is the real meaning of learning. when i saw the title of the article 'on the role of concepts in learning and instructional design', i was curious about what could be showed about concept learning? concept....is just a concept, anything else needs to be taught and researched? but after read this paper, i figured out there also existed knowledge in concept learning. concepts learned in isolation will lack coherence and therefore be less useful than concepts-in-use in thought construction processes. besides, concept learning mush be assessed in patterns and in use. students should learn how to use a variety of tools to build models of what they are learning and to engage in solving complex and ill-structured problems. That makes me come back to the activity-based learning. most of concepts are abstract and not easy to memory, even hard to comprehensive, if students could connect those abstract concepts to real life problem solving or some typical model, it may much easier to understand.  
session7
  Web2.0, in my mind, should be pedagogy-centered learning and teaching assisting by technology. In my ITE class, teachers are used to take moodle, blog, and google site as teaching platforms. By the way, Moodle is the most systematic and organized web2.0 application I have seen so far, it has various practical functions, such as discussion forum, wiki, database, etc. my point is not just how many functions it owns, but all those functions can be integrated into one LMS. I had questioned before, why moodle was so favorite by HKU teachers, now I figured out that it puts separate activities together and makes teachers and students convenient and comfortable use it. Web2.0 applications always provide communication or discussion spaces for users. Like comment box in Blog which is under one article. According to constructivism, learning is based on interaction----various forums do improve and promote such mutual learning.  
session8
  My reflection: Digital generation, ready-at-hand nature, these are the popular words for our new generation. Computer era seems disappear, at least not popular as before, instead, handheld devices are becoming favorable among young people. So that many authors argue that why do not we take this advantage to make 'anyone, anytime, anywhere learning' come true.   But according to my experience on mobile learning, I found following problems: 1. compared with computer screen, mobile phone screen is too small to read the whole context, and the size of word is not big enough for reading. Limitations on mobile devices result in a 'restricted' version. All in all, reading on mobile phone is harm for eyes 2. some popular software may not compatible in mobile phone. For example, there is a lack of microworlds for handheld devices 3. the effectiveness of mobile learning is very little. To myself, I almost never read textbooks on my smartphone or log in Moodle through mobile. To the contrary, I prefer using mobile phone for entertainment rather than study. But learning through mobile phone is not impossible, it should depend on what kind of knowledge it can offer. Such as news, tips on cooking, some simple and clear information may be more welcome by people to read.