Our approach
by Tobias Cornet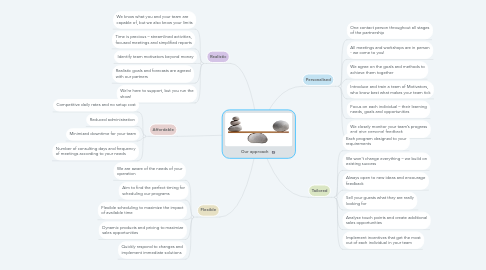 1. Realistic
1.1. We know what you and your team are capable of, but we also know your limits
1.2. Time is precious – streamlined activities, focused meetings and simplified reports
1.3. Identify team motivators beyond money
1.4. Realistic goals and forecasts are agreed with our partners
1.5. We're here to support, but you run the show!
2. Flexible
2.1. We are aware of the needs of your operation
2.2. Aim to find the perfect timing for scheduling our programs
2.3. Flexible scheduling to maximize the impact of available time
2.4. Dynamic products and pricing to maximize sales opportunities
2.5. Quickly respond to changes and implement immediate solutions
3. Affordable
3.1. Competitive daily rates and no setup cost
3.2. Reduced administration
3.3. Minimized downtime for your team
3.4. Number of consulting days and frequency of meetings according to your needs
4. Personalised
4.1. One contact person throughout all stages of the partnership
4.2. All meetings and workshops are in person - we come to you!
4.3. We agree on the goals and methods to achieve them together
4.4. Introduce and train a team of Motivators, who know best what makes your team tick
4.5. Focus on each individual – their learning needs, goals and opportunities
4.6. We closely monitor your team's progress and give personal feedback
5. Tailored
5.1. Each program designed to your requirements
5.2. We won't change everything – we build on existing success
5.3. Always open to new ideas and encourage feedback
5.4. Sell your guests what they are really looking for
5.5. Analyse touch points and create additional sales opportunities
5.6. Implement incentives that get the most out of each individual in your team