MICROSOFT WINDOWS APLICACIONES
by cruz perez larroque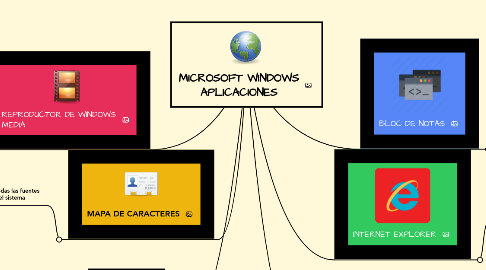 1. REPRODUCTOR DE WINDOWS MEDIA
1.1. Es un reproductor multimedia que permite reproducir música y vídeo de formatos compatibles (.mp3,.mp4,.waw, wmv, etc...).
1.1.1. New vocabulary
2. MAPA DE CARACTERES
2.1. Se utiliza para visualizar todas las fuentes tipográficas instaladas en el sistema
2.1.1. Research and prepare experiment
3. PAINT
3.1. Es un programa simple de dibujo gráfico desarrollado por Microsoft.
4. BLOC DE NOTAS
4.1. Es un editor de texto simple incluido en los sistemas operativos de Microsoft desde 1985.
4.1.1. Text book p. 55-60
4.1.2. Joseph Conrad "Heart of Darkness"
5. INTERNET EXPLORER
5.1. Es un navegador web de Internet producido por Microsoft para su plataforma Windows.
5.1.1. Midterm
6. WORD PAD
6.1. Es un procesador de textos básico que se incluye en casi todas las versiones de Microsoft Windows desde Windows 95 hacia arriba..