Origins Of Life 2
by Ángela Montaño Ruiz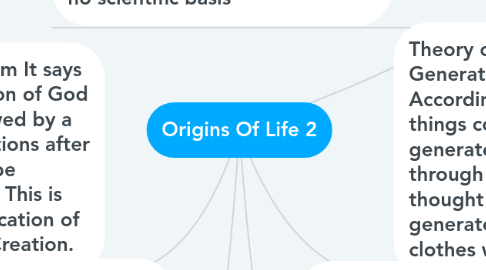 1. Theory of Special Creation According to this theory, all living things were created by God. This is considered as simply a religious concept, since it has no scientific basis
2. Theory of Chemical Evolution According to this theory, living things are a result of a chemical evolution that happened 3.8 billion years ago.
3. Theory of Spontaneous Generation According to this theory, living things could sponatiously generate from non-living things through recipies. Helmont thought that rats could generate if you mixed dirty clothes with wheat.
4. Theory of Catastrophism It says that since every creation of God has been always followed by a catastrophe, new creations after the catastrophe must be different from the last. This is considered as a modification of the theory of Special Creation.
5. Theory of Panspermia According to this theory, all living things came from a bacteria or spore that came with a meteorite.