The relationship between the matter and the biotic and abiotic factors.
by Mayrey Reyes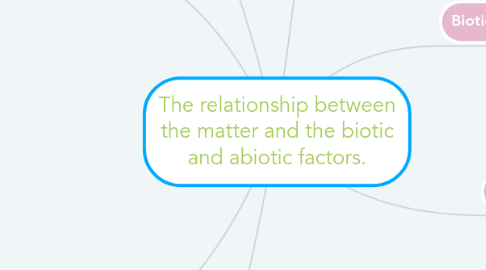 1. Hervibores, carnivores,omnivores, decomposers and photosynthetic organisms.
2. Biotic factors are involved in processes such as: reproduction, growth and the tropic chain which contribute to the preservation of life.
3. Abiotic factors characterize the physical mean and allow life by remaining the same each day, because if an abiotic factor changed, it will break the harmony of the ecosystem and it may interfere in the survival of some of the organisms that live there.
4. Biotic factors.
4.1. All biological influences that affect the organisms of an ecosystem.
5. Abiotic factors
5.1. The physical factors that influence an ecosystem.
5.2. Temperature, wind, soil,light, PH, oxygen, etc.
6. Matter
6.1. Occupies a place in space and has mass.
6.2. Everything is composed of matter.
7. Relationship.
7.1. Both biotic and some abiotic factors are composed of matter.
7.1.1. These factors hold a constant interchange of matter between them. To keep the tropic chain going, this has to remain. This means that both factors need to exchange matter in order to survive. If there was no matter, the food chain would be badly affected.
7.1.2. The tropic chain is the transfer of energy between a number of organisms.
7.1.3. In conclusion, they need to keep interchanging matter to keep their species and life going.
7.2. Biotic factors can affect matter by consuming it and transforming it into energy. Therefore, they change the ecosystem and the way it looks.