Working Material for ISGF Action Plan 2008-2011
by
Aleš Čerin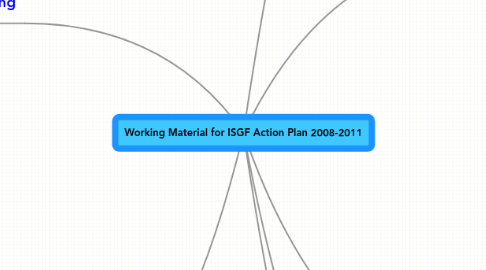 0.0
stars -
0
reviews range from
0
to
5
Working Material for ISGF Action Plan 2008-2011
THANKS FOR EXELLENT IDEA SPLASH!
Development
Young Scouts/Guides
Do we know what young want?
Importance of personal contacts
Offer expertise - nonintrusive
Observe, listen, open
Be reliable witness of adult scouting/guiding, Show trust to youth, Treat them as reliable
Adult Scouts/Guides could be resource for youth
Adult Scouts/Guides must have own activities+"be there"
Trainings for youth
Financial support, Just as starter, Better: show them how to earn money, Support projects
Joint activities with youngsters
Involve young people
to support peace
environmental actions
Activities for young families with children
Projects
National campaign to attract young adults
Use of modern means of communication
Develop training programmes
National commission for development
International camps
Initiate personal development
Initiate new NSGFs
Doing also by others through public relations
World Committee
More young people in WCom
Develop plan for lowering the average age
WCom should visit NSGF needing development
Create practical projects
Find sponsors to help Asian and African countries
Visibility
Use uniform or uniform image
NSGFs avaliable for helping Scouts/Guides
Focus on activities/projects
Have PR person in NSGF
Practical
For media on website
Make publicity of good events
Promote commemorative day
Use and build on 100 years
ISGF merchandise
Transportable displays
Take part in national international jamborees
Networking
"Face to face"
Gatherings, Exchange of ideas on all levels, More on local level
Encourage twinning, Personal twinning, Importance of personnal contacts, Guild to guild, Twinning wanted feature on web, Each NSGF 3 Twinnings, With Scouts Guides
Neighbouring NSGF+CB+Scouts/Guides, Interaction, Events - invitation, Cultural and craft based
Connection of strong NSGF's with less strong+CB
Partnership with..., International organizations, Scout and guide associations, WOSM/WAGGGS
Internet support
Website, Regularly updated, NSGF's responsible for updating, User friendly website, Calendar of events feature, Chat feature, Direct contact with WCom from website
Platform for sharing ideas
NSGF's internet site, Translate to other languages
Other
Each NSGF should have 2 delegates at conferences, Regional, World
Use of experts
WB must be connected to NSGF offices
Report to World Bureau on regular basis (NSGF+CB)
Communication
ISGF WCom-NSGF
Minutes for info
Comment
Actions according to minutes
Media coverage
Locally
Nationally
World level
Build up info channels
Website
At all levels
Updated regularly
Simple
Links of websites
Links to youth
Computer trainings, Locally, Ask youth for assistance, "Snowball effect" training
E-mails
Be sure they are received
Answer to E-mails
Interesting
Forget that you know everything!
ISGF should be "umbrella" + recognize differences
Why we can't ask for help youngsters?
Abbreviations
CB
Central Branch
ISGF
International Scout and Guide Fellowship
NSGF
National Scout and Guide Fellowship
PR
Public relations
WAGGGS
World Association of Girl Guides and Girl Scouts
WB
World Bureau
WCom
World Committee
WOSM
World Organization of Scout Movement