CHAPTER 2: SOFTWARE
by NURHANIS AIZA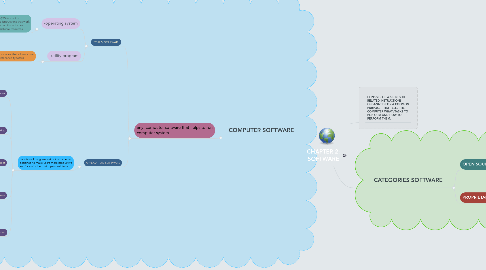 1. COMPUTER SOFTWARE
1.1. any computer software that helps to run computer system.
1.1.1. SYSTEM SOFTWARE
1.1.1.1. -operating system
1.1.1.1.1. an operating system(OS) is a set of programs containing isntructions that work together to coordinat all the activities among computer hardware resources
1.1.1.2. -utility program
1.1.1.2.1. type of system software that allows a user to perform maintenance-typetask
1.1.2. APPLICATION SOFTWARE
1.1.2.1. consitsts of program (set of instructions) designed to make users more productive and/or assits them with personal tasks.
1.1.2.1.1. -web browser
1.1.2.1.2. -word processing
1.1.2.1.3. -spreadsheet
1.1.2.1.4. -database
1.1.2.1.5. -presentation
2. CONSISTS OF A SCENES OF RELATED INSTRUCTIONS, ORGANIZED FOR A COOMON PURPOSE, THAT TELLS THE COMPUTER WHATVTASKS TO PERFORM AND HOW TO PERFORM THEM.
3. CATEGORIES SOFTWARE
3.1. OPEN SOURCE SOFTWARE
3.1.1. -created by unpaid volunteers, begin to gain wide acceptance among computers users.
3.1.2. -freely
3.1.3. e.g-google docs
3.2. PROPRIETARY SOFTWARE
3.2.1. -privately owned and limited to a specific vendor or computer model
3.2.2. -license/paid
3.2.3. e.g-microsoft word