History of the measurement of mass
by Qing Wang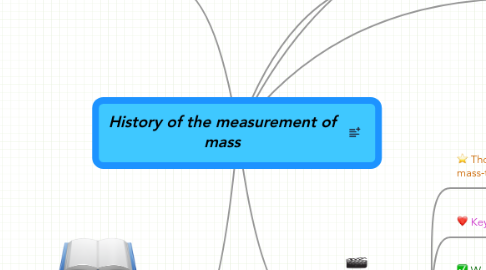 1. The scientist realised that is a good way to demonstrates canal rays
2. society
2.1. Thomson is able to separate particles of different mass-to-charge ratios.
2.2. Key shortcuts
2.2.1. Francis Aston constructs the first velocity focusing mass spectrograph with mass resolving power of 130
2.3. W. Aston became a fellow of the famous Royal Society.
2.4. Kenneth Bainbridge developed a mass spectrometer with a resolving power of 600 and a relative precision of one part in 10,000
2.4.1. Online Help
2.4.2. Use Cases & Templates
2.4.2.1. Personal Todo List
2.4.2.2. Vacation Planning
2.4.2.3. Meeting Minutes
2.4.2.4. Project Plan
2.4.2.5. more...
2.4.3. Tools and Gadgets
2.4.3.1. Offline Mode
2.4.3.2. Geistesblitz Tools
2.4.3.3. Email & SMS Gateways
2.4.3.4. Compare Editions
2.5. Aston speculated about the subatomic energy and the use of it
3. My Geistesblitzes
3.1. Check out http://www.mindmeister.com/services/tools/geistesblitz_widgets
4. History
5. founde
5.1. 1913
5.2. 1918
5.3. 1919
6. usage
6.1. 1932
6.2. 1936