My Sophomore Portfolio
by
Dylan Hollingsworth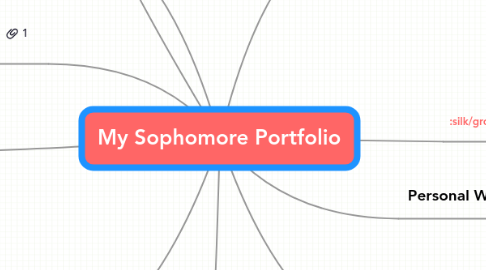 3.0
stars -
1
reviews range from
0
to
5
My Sophomore Portfolio
3 Essay Comparison
Hero or Criminal Persuasive Essay
Harmless Entertainment?
Key People in Iranian Oppression and Reform
ELA Standard 4
SWLO - Work Ethic/Technology
Reflection
During the "World Oppression and Slavery: Past to Present" Project, students were put into groups and each group was assigned a country.  Each group member selected a type of oppression to focus on in that country.  Also, each group member chose a research topic and had to create an essay and website based on that topic.  My group's country was Iran.  I chose to research key people in the oppression and reform of Iranian women.  Students were graded on the quality of their essay and website, the amount of information they learned, and how they presented their information.   The majority of this project was centered around Standard 4.  Standard 4 covers using the writing process to write thorough and tightly reasoned essays.  Some of the standards that were connected to this project were: 10.4.2, 10.4.3, 10.4.5, 10.4.7, and 10.4.9. By creating a website, we enhanced the information that we learned by presenting it digitally. However, the most important part of this project was writing the essay.  You could not start on your website before your essay was done.  Also, you could not complete your essay until your thesis was approved.  One thing that I learned during the course of this project was in order for an essay to be considered "good" it must have a strong thesis.  It takes writing more than one draft to make an essay outstanding; this is why going through the steps of the writing process is important.   Usually when I am instructed to write an essay, I do not do any planning.  I often just write what comes to me.  However, in order to make my essays the best that they can be I will go through the steps of the writing process.  Write a rough draft, make revisions, and make sure everything is just right before I turn it in.
Nelson Mandela Interview
ELA Standard 6
SWLO - Collaboration/Communication
Reflection
In the "Where are they now?" project, we had to research an important historical figure and their impact on society.  After researching them, we had to use the information we collected to create an interview with that person.  My partner and I chose Nelson Mandela as our historical figure.  Our interview had to show the readers Nelson Mandela's impact on society. We had to use tone and voice in our writing order to "be the character".   The standards that were covered in this project include: 10.6.2, 10.6.3, 10.4.4, and 10.7.16.  During the course of this project, we did extensive research, wrote using different English conventions, and produced a thorough interview.  We were graded on the length of our interview, word usuage, proper use of voice, and effective demonstration of Nelson Mandela's importance in society.  Since we had to write an interview with Nelson Mandela, we had to become the character.  That involved writing in Nelson Mandela's dialect and using words he would say.  This was the hardest part of the project, but also the most rewarding. Learning to write using tone and voice is a good skill to have because you can use it in all types of writing.  It also makes writing and character creation easier.  This is a really important skill in story writing.  I will continue my success by doing thorough research, citing sources properly, and practicing using voice within characters in a story.
ACT Plan Reading Score
ELA Standard 2
SWLO- Work Ethic/Citizenship
Reflection
In early spring, sophomores took the ACT Plan test.  The ACT Plan is a state standardized test which asses a students level of learning in all subjects.  This test is a way of showing students where they are learning wise: average, above average, or below average.  Scores received on this test are used to help students chose colleges.  It also helps colleges figure out if that student is right for their school.   The reading scores on the ACT are connected to Standard 2 because the reading portion assessed our reading comprehension. Standard 2 states that 10th grade students should be able to read and comprehend grade level material.   This test showed that my reading level is above average.  In order to keep an above average reading level and challenge myself, I will read more professional level text.  That will also help me to increase my vocabulary.
GMF Debate
ELA Standard 7
SWLO - Communication/Collaboration
Reflection
In the Genetically Modified Food Project, we had to research what kind of foods are GMF, how they are made, and the side effects of them.  We were given a stance to take (for or against) and had to debate against a group with the opposite stance.  If a group was told that they are "for" GMF, then their task was to inform the audience about the pros of genetically modified foods and persuade those against it to be on their side.  The groups that were against GMF had to do the opposite of that.  This project involved a lot of research; not only about GMF, but also about debating techniques.  Students were judged on the persuasiveness of their arguments, the amount of information presented, and presentation. Standards connected to this project include: ELA 10.7.3, ELA 10.7.4, B.1.23 and B.1.24.  In this project, we had to research foods that are manipulated genetically, create a persuasive argument, debate, and create a power point presentation to enhance the effectiveness of  our argument.  This project was very difficult because it was the first time that many of us had to debate.  We were all very nervous.  I presented the introduction and conclusion.  The introduction was the hardest part because I was not sure how to start the debate.  However, after hearing the opposition's argument, it was easy for me to close the debate with my stance.   Public speaking is a skill that I often struggle with.  Oftentimes, when I get nervous I begin to stutter and my thoughts don't come out fluently.  Sometimes, my mind goes completely blank when I am about to present.  I will work on these problems by taking notes and rehearsing before I present.
Algebra II Polynomial Test
A2 Standard 5
SWLO - Problem Solving
Reflection
At the end of the chapter on polynomials, students' skills were assessed.  The test covered things such as factoring, the quadratic formula, and graphing polynomials.  Math is a form of creative problem solving.  The polynomial chapter directly connected with A2 Standard 5.  This test was graded on the correct answer and the amount of work showed.   I struggled with polynomials a lot at the beginning of the chapter.  However, I surprisingly managed to receive a 94% on the end of chapter test.  This was because whenever I did not understand something, I asked questions, listened, and took notes.  In order to continue to do well on Algebra II test I will keep doing those things.
ELA Standard 3
SWLO - Technology
Reflection
The Odyssey Project was a group project.  However, each group member had an individual job.  At the end of the project, the goal was to bring all of the individual products together to create a group demonstration of what was learned while reading "Homer's Odyssey".  My part of the project involved creating an IMDB webpage for an original, American version of "The Odyssey".  We worked together as a group to create the modern American verision of "The Odyssey".  After the story was finished, we all applied the story to our individual products.   The Standards that were covered in this project were: 10.3.3, 10.3.6, 10.3.7, and 10.3.12.  We had to analyze the significance of the literary devices used in "Homer's Odyssey" and their meanings.  Also, we had to understand the importance of the story related to the time period it was written in.  Also, when we wrote our American version of the story we had to make the story relevant to the time period that we live in.  In this project, the group was graded on the originality of our story and whether it had an obvious connection to "The Odyssey" or not.  The IMDB product was graded based on quality of work, completion of all portions of the site, turn in date, and how professional it looked.  Technology was an important part of this product.  However, the creation of the story was the most important and most difficult task.   It is very hard to be original when you are creating a story based off of another story, especially when it is a classic story.  In order to successfully fulfill the task of rewriting "The Odyssey", we all had to completely understand the story.  Due to the vocabulary in the epic, it was rather hard to understand.  To increase my comprehension while reading the story, I read both the original version of the story and the English translated version.  The translated version helped me a lot.  I will continue my success by utilizing all the helpful resources that are available to me.
Desktop Publishing Word Web
ELA Standard 1
SWLO - Technology
Reflection
Desktop Publishing is a class in which students learn how to use computer programs to create publication documents.  The word web assignment consisted of creating a word cluster of computer related terms in the program, Inspiration.  When we were finished with the assignment, it was supposed to help us understand the origin of certain technologies and meaning of technical computer terms.  This assignment covered Standards 10.1.1 and 10.2.3.  We had to know the technical vocabulary in Inspiration and how to use it.  I will continue my success by playing around in the program and learning how to use new tools to create new things.
Introduction - Please Read First.