ALE2011, Berlin
by
Olaf Lewitz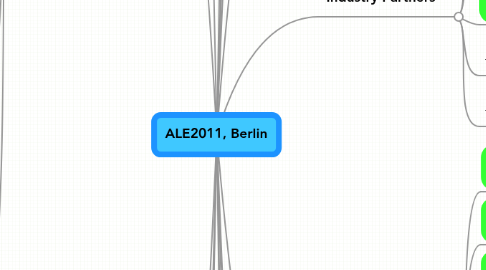 0.0
stars - reviews range from
0
to
5
ALE2011, Berlin
Mike Sutton
have
sticky wall
sharpies
big pens
card
talking corn
english posters
tape, blutack
need!!
theme/encompassing question?, We Share Because We Care
OS posters in as many european languages as poss!, do the day before, will need big paper, big pens, make call out to find as many diverse language speakers as poss. on the Tuesday, will prep the posters and crowdsource the translations
focused chat with organisers, with Olaf, quick sync up on the emerging schedule/plan/vision for the event, i'll need at 2 volunteers for operational support during the event, Are there general volunteers at the event?, number of registrations, 170*-200, venue floor plan, Olaf visiting venue on Friday , will send FP on weekend
how to best capture session outcomes?, blog style post per session?, template, ease of use (computers anywhere around?), filled in-session, images uploaded by booth, time between sessions?, 15min, Session time 45min each, 90min session possible but with a break
would like to stream the marketplace and opening, cost vs benefits, can we open a public vote for those not attending to see who might be interested in seeing this?, are we streaming any part of the event? if so, can we add this?
Get the floor plan at the venue
Open Space Facilitation Booth, after every session you're supposed to deliver a summary of your session, We organise a few laptops to type in the session results, Google Form to capture summary
prep google form with OS outcome template
Stop looking only at our own crowd
No competition to local events
Two levels
Diversity
Jurgen
Oana
Eelco
Student Volunteers from all Countries
Greg
Greg
Olaf
John
Sergey
Cat
Cesario
Aleksey
Natalia
delegate organisational stuff to a professional organising company
Olaf
sofa on stage
teleconference with Warsaw
video
wireless
tweet wall
badges
flags
first name and/or nickname
colours, organiser, speaker, spouse
Marcin
Oana
Olaf
Franck
Inbar
Ivana
1 selection per person
Sessions
30 min talks only, no questions, in the morning, open space continuation if proposed by someone else
Only new sessions
Transparent Selection
Community Feedback on Proposals, similar to XPDays Benelux or DE
Session Marketplace, Give credits for sessions you plan to attend
Open Space
every afternoon, Have the option of running late into the night?, From 2pm till whenever it ends
ACE format
Produce Open Space 'Proceedings Book' in Real Time - available to take home, Session Hosts take responsibility to articulately summarize their session, Paper or online version
Lightning Talks
Lightning Talk Lottery
5 min
Retrospective on Friday
Propose / consider what retrospective techniques to use
Schedule
9am - 6pm, Talks, 3 tracks, Lunch, break up with lightning talks, OpenSpace, break up with lightning talks
Wednesday, 9.30am start, opening keynote, talks, 3 tracks, 6 talks / track, lunch, open space
Thursday, keynote, talks, 3 tracks, 6 talks / track, lunch, open space
Friday, morning, open space, code dojo, coaching dojo, code retreat ?, 3 iterations, lunch, retrospective, 3pm closing keynote
Q:
Theme / topic
selection process
Only new talks?
have to record a 3min lightning talk about their topic, might be used for selection, might be used to offer support
one speaker from each country
Identify your intended audience
Invited speakers can't propose OS sessions
Communication registered participants to speakers
Co-presenting of speakers from different countries adds value for admission
Keynote, Rachel Davies
mentoring
Franck
Sven
300
Participant Types, speaker, Staged registration, 1. max 10 per country, country of work/life, 2. ask unrepresented countries, 3. open to everybody, Student Volunteers, organiser, Invites?
Spouse/Partner/Family-friendly conference
invite participants to bring spouses/kids
organise program for them?
Registration data
Contact Data, Name, EMail, Twitter, Adress, Country
Positioning Papers, Why should you be a participant?, What are your goals/expectation for the conference?, What can you distribute for the conference?, Topic for a Lightning talk
Spouses/kids
Place to store and manage participant data
Idea Farmers
Practicioners
Student Volunteers
Alex
Franck
Wordpress
Organisers page
Submissions system?
Registrations
Community network marketplace
Cross countries exchanges (including sharing business collaboration)
Create the space/place for this
Host it
Integrate local communities
Jaume
Ivana
Christian
Nick
decide if free or not
Managing cost & sponsorship
William Gill
Talks
Call for Talks
Diversity of Speakers, Ensure good representation from all coutnries
Tracks
3 or 4 Parallel Tracks?
Oana Juncu
Eelco
Catia
Ivana
Fabio
2x Michael
Waldorf and Statler on stage
only two people for a talk
exciters/cheerleaders
tweeting the talk live
keep good energy for the talk
test that in another event - proof of concept
keep the speaker comfortable
Spread the "word" before and during
PR
Contact with the media
Jule
Pablo
Christian
2x Michael
Agile Alliance
Added info to their events calendar
taking care of finding speakers working outside the software industry
Fabio
Thorsten
Pablo
Angel
Monika
Olga
get booths
improve country completeness
no influence on contents or participants
CouchSurfing offers are type of Sponsoring
feedback walls with sticky notes for each session
magic paper
big maps of Europe
visualizing local communities
visualizing participant statistics
appreciation cards that people can give to others during the conference
promote specific hashtags for sharing and learning.
Best Blog Post of the Conference Award
Open Space Preperation
ALENetwork Visions/Ideas
Idea Posters (from XP2011)
publish conference results
all links to persentation materials
all links to blog posts
tweet feed, single twitter tag #ALE2011
photo gallery
videos from the sessions
Mike Leber
Participant dictionary (like people page)
Wall?
Better integration on web site
connect to talks
Special sessions/events
Tuesday, organizer start event, speaker welcome session, Volunteer instructions
Wednesday, welcome the participants
Thursday, conference dinner
Friday, closing session
Saturday, organizers breakfast, conference retrospective
ALE2012 Preparation
Information for participants
as flyer
online
as mail, and on website
session schedule
travel tips
spoose/kids program
organizational information
Material
Stickers, ALE stickers
New node