Mrs. Melody Johnton High School career at Calumet High School.
by Andrew magiera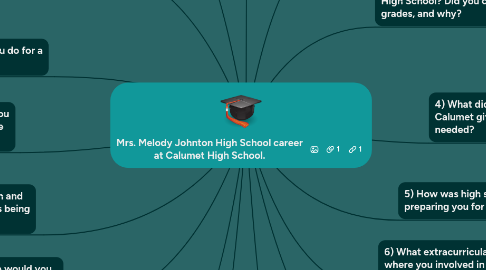 1. 2) What inspired you to go to school?
1.1. My family worked in the steel mills so we all had a good work ethic and a no nonsense approach to going to school. My brothers and I earned perfect attendance awards several times though out our school years.
2. 10) What College did you attend after High School?
2.1. I attended IUN for one year and PUC for two years. I did not graduate from either, but I took business and management classes.
3. 15) Did you ever feel like working for Calumet High School was the best thing you ever did? Would you go back if you could?
3.1. I enjoyed both attending and working for CHS. I am very proud of my ties to the school. Many friendships were formed there and whenever I get the chance to visit it is always a warm and welcoming place. There are very loyal people at CHS. You can come back in ten years and find someone working there that was there when you were there and they will remember you and be glad to see you!!
4. 5) How was high school preparing you for life?
4.1. I went to school with a very diverse population. It was not a sheltered existence at all. We learned to get along, and accept each others' strengths and differences. I am still close and in touch with several people I went to high school with.
5. 12) What did you want to be when you were in high school? Did you become what you wanted to be?
5.1. I think I wanted to be a teacher until I started High School. After a couple of years, and the guidance of Ms. Simic my business teacher, I focused on business classes.
6. 6) What extracurricular activities where you involved in at Calumet?
6.1. I was in Ski Club (how about that one?!), C-Teens (which was kind of like a girls service club, similar to Girl Scouts), OEA (Office Education Association), Pep Club (president my senior year), Newspaper, Yearbook and Warriorettes.
7. 13) Did you hear about New Tech and how its changing how calumet is being run?
7.1. Yes, I read the newspaper articles about it.
8. 3) What kind of grades did you get in High School? Did you car about your grades, and why?
8.1. I was an average student who didn't realize until it was much too late that I didn't study hard enough in school. I was from Black Oak and got average grades. My friends were from Ranburn Woods and got better grades. I just figured that was the way it was suppose to be. I just accepted it.
9. 11) What do you do for a living now?
9.1. I work as the Guidance Secretary/Registrar at Hammond High School.
10. 7) Did you get any Varsity Letters/Patches for a Letterman's jacket?
10.1. Yes, I earned a letter for Band (the Warriorettes were part of the band at that time) and a patch for Pep Club. We did not have organized girls sports in High School at that time.
11. 14) If you had the chance would you want to be a New Tech student doing project base learning?
11.1. Heck yeah!! The closest thing we had to that was when we had school 1/2 day and went to work 1/2 day. Kind of like an internship. But being high school students, our employers limited what they would show us. Using those computers opens up so much opportunity!
12. 1) How did you feel about going to school? Did you like it or not? Explain.
12.1. I enjoyed school. Especially for the social aspect. I was involved in different activities that kept me connected to school.
13. 9) How did you feel when you Graduated from Calumet High School?
13.1. I felt I was very fortunate. I felt like CHS was the best kept secret in NW Indiana.
14. 8) Who was your favorite teacher at Calumet? Why.
14.1. It would have to be Mr. Carl Traicoff. You knew you had to be prepared for his class. He would not accept any excuses. His classes were very engaging and fully of energy. He was a very passionate teacher. The class was Current Events and to this day, it is the one class I can remember being in and can see him standing at the podium teaching. He challenged us, inspired us and made sure we cared about our education and about our school.
15. 16) What advice would you give to the sophomore class so they can prepare for the outside world?
15.1. You still have a couple of years to make the best of High School. Don't ignore the chance and be regretful your Senior Year. It is much tougher to catch up then. Get involved! It gives you something to look forward to besides schoolwork. If there is nothing you are interested in at school, then take the initiative to get something started! Is there a class you would like to take? Tell your counselor. Is there a club you want to start? Talk to your class sponsor. Don't sit back and complain. MAKE THINGS HAPPEN! Remember: When you know better, you do better.
16. 4) What did school do for you? Did Calumet give you the education you needed?
16.1. I graduated in 1974. At that time, if you were from Black Oak it was not automatically assumed that you would be going to college. Fortunately Calumet had lots of programs for those of us who were not on that track. There were classes called Health Occupations, Office Education, Welding, Wood shop. I was in the Office Education program and was able to use my education to work for a company that saw my potential and trained me in the retail business to where I became a store manager when I was 19 years old.