Using InsertLearning in Language Arts Enhances Learning
por Abby Vaughn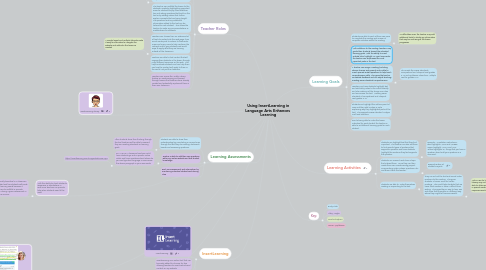 1. With the ability to check student's responses or annotations in Real-Time teachers can provide help when students need it the most
1.1. This is especially beneficial in a classroom that is blended and has students with wide varieties of learning needs because it allows teachers to scaffold or provide intervention during a given assessment in a one-on-one manner.
2. Allows every student to have a voice by showing their thinking (annotations) while reading a given text online
2.1. Creates connections between students, as well as connections with their teacher, allows the teacher to tailor the learning experience to their classroom's needs
3. https://insertlearning.com/images/student-voice.png
4. InsertLearning Library
5. Learning Goals
5.1. Students are able to work at their own pace to complete the reading and answer or complete activities within the reading.
5.1.1. As difficulties arise, the teacher may add additional tools to clarify any information that may be confusing as the lesson progresses
5.2. With additions to the reading, teachers may guide their students toward the intended learning goals. With the ability to insert outside links, highlight, or inject comments, the teacher can emphasize the most important parts in the text
5.3. A teacher can assign a reading (including stories, dramas and poems) and is able to insert opened ended questions to help teach comprehension skills. This gives the teacher immediate feedback and can adjust teaching, meeting DESE Standard Comprehension
5.3.1. This meets the DESE Standards Comprehend and Interpret Text grades 6-12 and Synthesize Ideas from Multiple Text for grades 6-12.
5.4. Teachers can have students highlight text and add sticky notes to the article identify and cite evidence of the story's main idea and summarize the text. Meeting DESE Standard of Comprehend and Interpret Text grades 6-12.
5.5. Students can highlight the author's point of view and then add a video or note explaining why they highlighted parts of the text. This supports DESE Standard Analyze Craft and Structure.
5.6. Due to being able to make the lesson individual for each student the teacher is able to set different learning goals for each student.
6. Learning Activities
6.1. Students can highlight text that they find important. The teacher can also ask them to find specific types of evidence that supports a question and have students highlight the evidence they feel supports the question.
6.1.1. Example: Annotation Instructions: Blue highlights: WHO and WHERE Green highlight: WHAT and WHY Yellow highlights: 2+ things that you have a question about add your question as a comment.
6.2. Students can research and share a topic that interest them. Once they can then create their own InsertLearning project, incorporating notes, videos, questions, etc. and share it with the teacher.
6.2.1. Example Rubric at Student Projects
6.3. Students are able to video themselves reading or responding to the text.
6.3.1. They can act out the text and record video reactions to the reading. This gives students a human voice for harder readings. This could help students that are lower level readers or have a difficult time writing. This gives them a way to hear, see and share their thoughts in a different way where they might be more successful.
6.3.1.1. Aids in use for lower grade levels where literacy may not be at the level of being able to utilize written response, as well as in special needs classes where written responses would also not be practical.
7. Teacher Roles
7.1. Able to monitor student comprehension throughout the lesson/unit, by embedding multiple choice or opened ended questions into the reading. Questions can be about the text itself or about concepts that the students are learning.
7.1.1. This also adds to learning goals, the teacher is able to make sure the student is pulling the necessary information and ideas from the reading and ensures that the lesson has been completed as intended
7.2. The teacher is able to share a reading and add a video or audio of the same text allowing students to compare and contrast how reading and performance impact interpretation.
7.2.1. This meets DESE standard of Synthesize Ideas from Multiple Texts grades 6-12.
7.3. The teacher can scaffold the lesson to the students' needs by highlighting important areas for students to pay close attention too and asking questions that build on the text or by adding videos that further explain concepts that are being taught. The questions and any additional information added to the text can be tailored to each student. This allows the teacher to make any accommodations or modifications for students.
7.4. Teachers can choose from an extensive list of tools to embed into the web page, from social media post to videos, to flashcards, maps and many more to help reinforce the concept and/or give students real world ways to apply what they are learning outside of the classroom.
7.4.1. A simple layout and multiple tutorials make it easy for educators to navigate the website and add onto the lesson as needed
7.5. Teachers are able to find content that will engage their students in the lesson through many different resources on the web. This helps motivate students and can help them see how the content will apply to them in the world, not just the classroom.
7.6. Teachers can access the 'Public Library' feature on InsertLearning and browse through lessons that teachers have already created and potentially implement them in their own classroom.
8. Learning Assessments
8.1. Students are able to show their understanding by completing a concept map through the text they are reading, discussion boards and answering questions.
8.1.1. After Students show their thinking through this tool teachers will be able to assess if they are meeting standards or learning goals
8.2. Teacher is able to add their own questions within any online website and test student knowledge.
8.2.1. EX: In an ELA classroom teachers could have students go onto a specific online article and have questions about where do you see figurative language or summarize the above paragraph in your own words
8.2.1.1. https://insertlearning.com/images/welcome.mp4
8.3. Real-Time assessment and intervention by monitoring individual student work during class
9. InsertLearning
9.1. InsertLearning
9.2. InsertLearning is an online tool that can be easily added to Chrome for free allowing teachers to insert instructional content on any website
9.3. InsertLearning's mission is to help teachers turn the Internet into an interactive learning experience.
10. Key:
10.1. Emily Clark
10.2. Abby Vaughn
10.3. Nicole Strayhorn
10.4. Lauren Applebaum