A MARK. SOURCE: Nick Cooper. Analyst of global brands.
por ficha naranja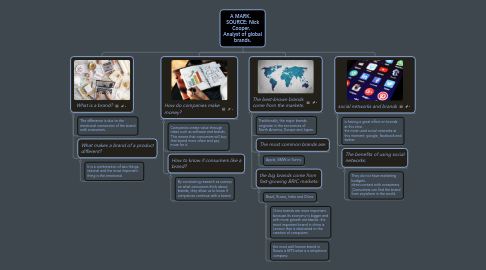 1. What is a brand?
1.1. The difference is due to the emotional connection of the brand with consumers.
1.2. What makes a brand of a product different?
1.2.1. It is a combination of two things. rational and the most important thing is the emotional.
2. How do companies make money?
2.1. Companies create value through ideas such as software and brands. This means that consumers will buy that brand more often and pay more for it.
2.2. How to know if consumers like a brand?
2.2.1. By conducting research as surveys on what consumers think about brands, they allow us to know if companies continue with a brand.
3. The best-known brands come from the markets:
3.1. Traditionally, the major brands originate in the economies of North America, Europe and Japan.
3.2. The most common brands are:
3.2.1. Apple, BMW or Sonny.
3.3. the big brands come from fast-growing BRIC markets:
3.3.1. Brazil, Russia, India and China.
3.3.1.1. China brands are more important. because its economy is bigger and with more growth worldwide. the most important brand in china is Lenovo that is dedicated to the creation of computers
3.3.1.2. the most well-known brand in Russia is MTS what is a telephone company.
4. social networks and brands
4.1. is having a great effect on brands at this time. the most used social networks at this moment: google, facebook and twitter.
4.2. The benefits of using social networks:
4.2.1. They do not have marketing budgets. direct contact with consumers. Consumers can find the brand from anywhere in the world.