Kinark Child and Family Services
por Anna Laplante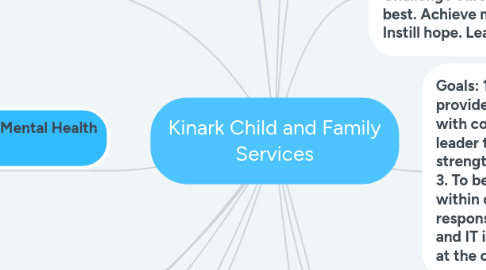 1. KOC; for community or school group bookings simply call the Program Manager. For Autism Respite or Parent Training, create an on-line registration and/or connect with Autism Program Supervisor.
2. Parents can get connected to the SNAP program by calling Central Intake: 1-888-454-6275.
3. AUTISM services: Book a free consultation with one of our Board Certified Behaviour Analysts OR visit one of our treatment sites.
4. FORENSIC MENTAL HEALTH/YOUTH JUSTICE (at Syl Apps Youth Centre) Admission is guided by federal and/or provincial legislation. Clients are referred to these services through a court process.
5. CYMH, Call Central Intake 1-888-454-6275 Central Intake is the front door to services and supports for children and youth who need help with a mental health issue. We can guide you through the referral process or steer you to an agency or service in the community that can best meet your needs.
6. Autism
6.1. As the regional lead for the Autism Intervention Program in the Regions of York and Durham, Simcoe County and the four Counties of Haliburton, Kawartha Lakes, Peterborough and Northumberland, Kinark supports children with autism spectrum disorder (ASD) and their families through the provision of Intensive Behavioural Intervention (IBI), and by helping children transition to school.
6.1.1. STAFF: School Support Program Consultants supporting students with a diagnosis of an ASD transition from Ontario Autism Program (OAP) behavioural services into school.
7. Child and Youth Mental Health (CYMH)
7.1. Kinark's multidisciplinary team offers a variety of evidence-based services, ranging from early intervention and parenting supports, to residential, day treatment and intensive in-home programs. These services are provided in collaboration with a host of community partners, including schools, hospitals and other child and youth service providers.
7.1.1. Kinark's Child Care Centres (located at 4 public schools in Keswick) offer inclusive programming to support children, families and staff, however, no clinical treatment services are provided.
7.1.2. In school services may include -- Counseling/Therapy; Crisis Support; Specialized Consultation/Assessment.
8. Forensic Mental Health /Youth Justice
8.1. Syl Apps Youth Centre (SAYC), located in Oakville, is a secure provincial facility for youth with mental health issues who are in conflict with the law, or who have been found to pose significant harm to themselves or others. Kinark provides secure treatment, and secure detention and custody for youth at SAYC. Kinark also offers the Intensive Support and Supervision Program (ISSP), an alternative-to-custody program which provides support in the community to youth with mental health challenges who are in conflict with the law.
9. Vision: A healthy future for Ontario's children and youth.
10. Mission: Helping children and youth with complex needs achieve better life outcomes.
11. Core Values: Hold children and youth at the centre of all we do. Challenge ourselves to be the best. Achieve more together. Instill hope. Lead.
12. Kinark Outdoor Centre (KOC)
12.1. Located in Minden, it offers Autism Respite Programs for child and family., as well as therapeutic recreational programs in a natural setting.
13. Goals: 1.To be the best treatment provider for children and youth with complex needs. 2. To be a leader that shapes and strengthens the sectors we serve. 3. To be an employer of choice within our sector. 4. To have a responsive and strong financial and IT infrastructure. 5. Quality is at the core of all our work.
14. HOW TO ACCESS SERVICES?
15. Government Resources: Moving On Mental Health http://www.children.gov.on.ca/htdocs/English/professionals/specialneeds/momh/momh.aspx
16. Parent Resources: Stop Now and Plan (SNAP) Navigating the Middle Years with Self Control: Interactive Guide for parents/caregivers and those working with children and youth.
17. Kinark's Volunteer Board of Directors has a broad range of professional skills, knowledge and experience that reflect the full scope of our operations and strives to reflect Kinark's goal of geographic, cultural and linguistic diversity.