ADJETIVOS COMPARATIVOS Y SUPERLATIVOS
por Jesús Alan Ramos Saucedo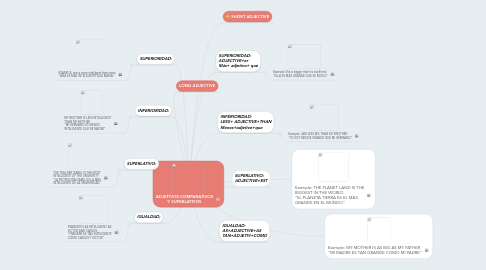 1. Example: THE PLANET LAND IS THE BIGGEST IN THE WORLD "EL PLANETA TIERRA ES EL MÁS GRANDE EN EL MUNDO"
2. Example: MY MOTHER IS AS BIG AS MY FATHER "MI MADRE ES TAN GRANDE COMO MI PADRE"
3. SUPERIORIDAD: ADJECTIVE+er Más+ adjetivo+ que
3.1. Example: She is bigger than his boyfriend "ELLA ES MÁS GRANDE QUE SU NOVIO"
4. INFERIORIDAD: LESS+ ADJECTIVE+THAN Menos+adjetivo+que
4.1. Example: I AM LESS BIG THAN MY BROTHER "YO SOY MENOS GRANDE QUE MI HERMANO"
5. SUPERLATIVO: ADJECTIVE+EST
6. IGUALDAD: AS+ADJECTIVE+AS TAN+ADJETIV+COMO
7. SHORT ADJECTIVE
8. SUPERIORIDAD:
8.1. EXAMPLE: ana is more intelligent than maria "ANA ES MAS INTELIGENTE QUE MARIA"
9. INFERIORIDAD:
9.1. MY BROTHER IS LESS INTELLIGENT THAN MY MOTHER "MI HERMANO ES MENOS INTELIGENTE QUE MI MADRE"
10. SUPERLATIVO:
10.1. THE TEACHER ISABEL IS THE MOST INTELLIGENT OF THE UNIVERSITY "LA PROFESORA ISABEL ES LA MAS INTELIGENTE DE LA UNIVERSIDAD"
11. IGUALDAD;
11.1. FRANDER IS AS INTELLIGENT AS VICTOR AND CARLOS "FRANDER ES TAN INTELIGENTE COMO CARLOS Y VICTOR"
12. LONG ADJECTIVE