Papá RIco Papá Pobre Robert Kiyosaki
por Victor Heredia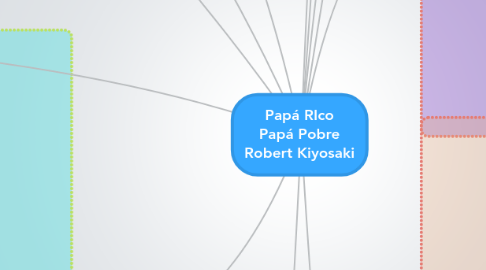 1. inside everyone of us is brave, brilliant and daring // todos, en el interior, somos valientes, brillantes y atrevidos
2. Does the investment make sense based on current market conditions? // Hacen sentido las inversiones en las condiciones de mercado actuales ?
3. Rule 1: Know the difference between assets and liabilities and buy assets // Regla 1: Conozca la diferencia entre activos y pasivos y, compra de activos
3.1. Rich people acquire assets, poor/middle class acquire liabilities and think they are assets // Los ricos adquieren activos, la clase media / pobre adquieren pasivos y cree que son activos
3.2. An asset puts money in my pocket, a liability takes money out // Un activo agrega dinero a mi bolsillo, un pasivo saca dinero
4. Professional Investor puts deals together // El inversionista profesional organiza las operaciones
4.1. Find an opportunity everyone else has missed // Encuentra una oportunidad que todos los demás hayan perdido
4.2. Raise money // Recauda fondos
4.3. Organise smart people // Organiza gente inteligente
4.3.1. Have great advisors // Ten grandes asesores
5. Lesson 1: The rich don't work for money // Lección 1: El rico no trabaja por dinero
5.1. The poor and middle class work for money. The rich have money work for them. // Los pobres y la clase media trabajan por dinero. Los ricos tienen dinero que ponen a trabajar.
5.2. People's are controlled by two emotions: fear and greed. // Las personas están controladas por dos emociones: el miedo y la codicia.
5.3. Money is in control of their emotions and souls // El dinero tiene el control de sus emociones y almas.
5.4. Many people are ignorant about money // Muchas personas desconocen el manejo del dinero
5.5. See what others miss // Ve lo que otros omiten
5.5.1. Created a comic book library // Creó una biblioteca de cómics
6. Lesson 2: Why Teach Financial Literacy? // Lección 2: ¿Por qué enseñar educación financiera?
6.1. Who are you working for? // ¿Para quién trabajas?
6.1.1. The company // La empresa
6.1.2. The bank // El banco
6.1.2.1. Mortgage/Credit cards // Hipoteca / Tarjetas de crédito
6.1.3. The government // El gobierno
6.1.3.1. Taxes // Impuestos
7. Lesson 3: Mind Your Own Business // Lección 3: Ocúpate de tus asuntos
7.1. Start buying assets, not liabilities or personal effects with no real value // Empieza a comprar activos, no pasivos o efectos personales sin valor real
7.1.1. Business' that do not require my presence // Negocios que no requieren mi presencia
7.1.2. Stocks // Acciones
7.1.3. Bonds // Bonos
7.1.4. Income-generating real estate // Bienes inmuebles que generan ingresos
7.1.5. Notes (IOUs) // Notas (pagarés)
7.1.6. Royalties from IP // Derechos de propiedad intelectual
7.1.7. Anything that has value, produces income or appreciates, and has a ready market // Cualquier cosa que tenga valor, produzca ingresos o se revalorice, y tenga un mercado fácil
7.2. Be Active in your asset column // Sé activo en la columna de activos
7.2.1. Once a dollar goes into that account, dont let it come out // Una vez que un dólar entra en esa cuenta, no dejes que salga
8. Lesson 4: The History of Taxes and The Power of Corporations // Lección 4: La historia de los impuestos y el poder de las organizaciones
8.1. Knowledge is power // Conocimiento es poder
8.1.1. With money comes great power and the right knowledge to keep it and multiply it // Con el dinero viene un gran poder y el conocimiento adecuado para conservarlo y multiplicarlo.
8.2. If you work for money, you give power to your employer. // Si trabajar por dinero, le das el control a tu empleador
8.2.1. If money works for you, you keep the power and control it. // Si el dinero trabaja para tí, manten el poder y el control sobre él.
8.3. The tax man will take more if you let him // El hombre de los impuestos tomará más si tu se lo permites.
8.4. Accounting // Contabilidad
8.5. Ability to read and understand financial statements // La habilidad de entender y leer los estados financieros
8.6. Financial IQ // IQ Financiero
8.6.1. Investing // Invertir
8.6.1.1. Science of making money from money // La ciencia de hacer dinero con dinero
8.6.2. Understanding Markets // Entiendo los mercados
8.6.2.1. Science of supply and demand // La ciencia de la oferta y la demanda
8.6.3. The Law // La Ley
8.6.3.1. Tax advantages // La ventaja de los impuestos
8.6.3.1.1. Companies can spend first and pay tax on whats left (opposite to employees)
8.6.3.2. protection from law suits // protección contra demandas judiciales
8.6.3.2.1. Control but not own // Controlar pero no tener la propiedad
9. Lesson 5: The Rich Invent Money// Lección 5: El rico es quien inventa el dinero
9.1. self doubt and lack of confidence hold us back // Lo que nos detiene es la duda y la falta de confianza en uno mismo.
9.1.1. its not the smart that get ahead but the bold // No son los inteligentes los que salen adelante, sino los audaces.
9.1.2. "I don't know how to do that here yet" // Aún no sé como hacer esto
9.1.2.1. Great opportunities are seen with your mind not your eyes // Las grandes oportunidades se ven con tu mente, no con tus ojos.
9.1.2.2. Learn to recognise opportunities // Aprende a reconocer oportunidades
9.1.3. play Cashflow to increase understanding // Juega "CashFlow" (Flujo de efectivo) para mejor el entendimiento.
10. Lesson 6: Work to Learn - Don't work for Money // Lección 6: Trabaja para aprender, no trabajes por el dinero.
10.1. Learn to sell // Aprende a vender
10.1.1. Give books obnoxious titles // Da a los libros títulos odiosos
10.2. Know a little about a lot // Aprende algo de mucho
10.3. Learn constantly // Aprende constantemente
10.4. "Workers work just hard enough to not get fired. Owners pay just enough that workers wont quit." // "Los trabajadores trabajan solo lo necesario para no ser despedidos. Los propietarios pagan lo justo para que los trabajadores no renuncien".
10.5. Management skills for success // Habilidades de gestión para el éxito
10.5.1. Cashflow // Flujo de efectivo
10.5.2. Systems // Sistemas
10.5.3. People // Personas
10.6. Marketing & Comms // Mercadotecnia y Comunicación
10.6.1. Most important specialised skills // Habilidades especializadas más importantes
10.6.2. writing, speaking, negotiating // escribir, hablar y negociar
10.6.2.1. Attend courses // Asiste a cursos
10.6.2.2. Can always learn more // Siempre puedes aprender algo más
10.7. Be Good Learner, seller, marketer and teacher
11. Overcoming Obstacles // Superando los obstáculos
11.1. Fear // Miedo
11.1.1. Pain of losing money greater than the joy of being rich // El dolor de perder dinero es mayor que la alegría de ser rico
11.1.1.1. Failure inspires winners. Failure defeats losers. // El fracaso inspira a los ganadores. El fracaso derrota a los perdedores.
11.1.2. If you hate losing, play it safe. Start early // Si odias perder, ve a lo seguro. Empieza pronto
11.2. Cynicism // Cinismo
11.2.1. Sky is falling // El cielo se está cayendo
11.2.1.1. Noise // Ruido
11.2.1.1.1. Self doubt // Duda de sí mismo
11.2.1.1.2. We all hear it // Todos lo escuchamos
11.2.2. Worst of times are actually the best of times // Los peores tiempos son en realidad los mejores
11.2.3. Watch out for buyers remorse // Ten cuidado con el remordimiento del comprador
11.3. Laziness // Flojera
11.3.1. Too busy to take care of own wealth // Demasiado ocupado para ocuparse de su propio patrimonio
11.3.2. A little greed is good // Un poco de avaricia es buena
11.3.3. How can I afford it? // ¿Cómo puedo pagarlo?
11.4. Bad habits // Malos hábitos
11.4.1. Pay Yourself First // Págate a tí mismo primero
11.5. Arrogance // Arrogancia
12. To Do's // Lo que hay que hacer
12.1. 1. Find a reason greater than reality: the power of spirit // 1. Encuentra una razón más grande que la realidad: el poder del espíritu
12.1.1. Combination of "wants" and "don't wants" // Combinación de "quiero" y "no quiero"
12.1.2. Need a strong reason or it will seem like too much hard work // Necesita de una razón sólida, de lo contrario, parecerá demasiado trabajo difícil
12.2. 2. Make daily choices: The power of choice // 2. Toma decisiones diarias: El poder de la elección.
12.2.1. First invest in education // Invierte en educación
12.2.1.1. Books, CD's // Libros, CD's
12.2.1.1.1. Listen to an investor say something i disagree with // Escuchar a un inversor decir algo con lo que no estoy de acuerdo
12.2.1.1.2. Re-listen and keep an open mind // Vuelve a escuchar y manten la mente abierta
12.2.1.2. Go to seminars // Ir a seminarios
12.2.1.2.1. Preferably 2 days so can immerse in topic // Preferiblemente 2 días para que pueda sumergirse en el tema.
12.2.2. Every dollar that comes in, we have the power to choose our future // Con cada dólar que ingresa, tenemos el poder de elegir nuestro futuro.
12.3. 3. Choose friends carefully: power of association // 3. Selecciona cuidadosamente a tus amigos: el poder de la asociación
12.3.1. Friends with money talk about money, not to brag but because they are interested in it // Los amigos con dinero hablan de dinero, no para presumir sino porque les interesa.
12.3.2. Ask someone who has been success how they did it // Preguntale a alguien que haya tenido éxito, cómo lo hizo.
12.4. 4. Master a formula and then learn a new one: the power of learning quickly // 4. Domina una fórmula y luego aprende una nueva: el poder de aprender rápidamente
12.4.1. You become what you study // Te conviertes en lo que estudias
12.4.1.1. Search for a faster formula // Buscar una fórmula más rápida
12.5. 5. Pay yourself first: the power of self-discipline // 5. Págate a ti mismo primero: el poder de la autodisciplina
12.5.1. Don't get into large debt positions that you have to pay for. Keep your expenses low // No adquieras grandes deudas que tengas que pagar. Mantén tus gastos bajos
12.5.1.1. Build up assets before you buy car etc // Acumula activos antes de comprar un coche, etc.
12.5.2. When you come up short, let the pressure build and don't dip into savings or investments // Cuando te quedes corto, deja que la presión aumente y no eches mano de los ahorros o las inversiones
12.5.2.1. Use the pressure to inspire your financial genius // Utiliza la presión para inspirar a tu genio financiero
12.5.2.2. Be tough // Sé duro
12.6. 6. Pay your brokers well: the power of good advice // Paga bien a sus brokers-corredores de bolsa: el poder de un buen consejo
12.6.1. Their service should make you money // Su servicio debería hacerte ganar dinero
12.6.2. Ask how much property or stocks they own personally and how much they pay in taxes // Pregunta cuántas propiedades o acciones poseen personalmente y cuánto pagan de impuestos
12.6.2.1. Mind your own business // Ocúpate de tus asuntos
12.6.2.2. Work with people in the same business as you // Trabaja con personas que se dedican a lo mismo que tú
12.6.2.3. Have your own board of directors // Ten tu propio consejo de administración
12.7. 7. Be an Indian giver: the power of getting something for nothing // 7. Se un dador indio: el poder de obtener algo a cambio de nada
12.7.1. on every investment there must be something for free // en cada inversión debe haber algo gratis
12.7.1.1. LImited risk or low risk idea //
12.8. 8. Use assets to buy luxuries, the power of focus // 8. Utiliza activos para comprar artículos de lujo, el poder del enfoque
12.8.1. be smarter than your money // se más inteligente que tu dinero
12.8.1.1. be a master not a slave // se un maestro no un esclavo
12.9. 9. Choose Heros: the power of myth// 9. Elija a los héroes: el poder del mito
12.9.1. Find heros who make it look easy // Encuentra a los héroes que lo hagan parecer fácil
12.10. 10. Teach and you shall receive: the power of giving // 10. Enseña y recibirás: el poder de dar
12.10.1. Give what you want first, and it will come back in buckets // Da primero lo que quieres, y te lo devolverán a manos llenas
13. Do it now // Hazlo ahora
13.1. Stop doing what you are doing // Deja de hacer lo que hoy estás haciendo
13.2. Look for new Ideas // Busca nuevas ideas
13.3. Find someone who has done what you want to do // Busca a alguien que haya hecho lo que tú quieres hacer
13.4. Take classes, read, attend seminars // Toma clases, lee y atiende seminarios
13.5. Make lots of offers // Haz muchas ofertas
13.6. Jog, walk or drive a certain area once a month for 10 minutes // Correr, caminar o conducir por una zona determinada una vez al mes durante 10 minutos
13.7. Shop for bargains in all markets // Buscar ofertas en todos los mercados
13.8. Look in the right places // Buscar en los lugares correctos
13.9. Look for people who want to buy first, then look for people who want to sell // Busca personas que quieran comprar primero, luego busca personas que quieran vender
13.10. Think big // Piensa en grande
13.11. Learn from history // Aprende de la historia
13.12. Action always beats inaction // La acción siempre gana a la inacción