Language Family Tree
por Roshan babu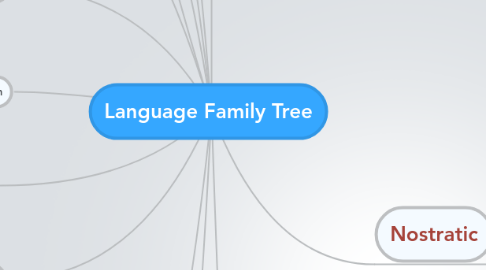 1. Two Theories of origin and diffusion of Indo-European
1.1. Nomadic Warrior Thesis
1.1.1. This theory was brought up by Marija Gimbutas. It claims that the first Proto-Indo-European speakers were the Kurgan people, whose homeland is between present day Russia and Kazakhstan. They were nomadic herders, and were among the first to domesticate horses and cattle. They migrated in search of grassland for the cattle, which took them to Siberia, and toward Iran and South Asia. Kurgan warriors used their domesticated horses as weapons, which helped them conquer much of Europe and South Asia.
1.2. Sedentary Farmer Thesis
1.2.1. The theory was brought up by Archaeologist Colin Renfrew. It claimed that the first speakers of the Proto-Indo-Europeans lived 2000 years before the Kurgans in eastern Anatolia. The Anatolians relied on trading and producing food, rather than by military conquest. When they migrated in search of food, they carried their language as well.
2. Nostratic
2.1. Dravidian
2.1.1. Tamil
2.1.2. Telugu
2.1.3. Malayalam
2.1.4. Kanada
2.2. Uralic
2.2.1. Ugric
2.2.1.1. Magyar
2.2.2. Finnic
2.2.2.1. Finnish
2.3. Altaic
2.3.1. Turkish
2.3.2. Tatar
2.3.3. Kazakh
2.3.4. Uzbek
2.3.5. Turkmen
2.3.6. Mongolian
2.3.7. Uyghur
2.3.8. Azerbaijani
2.4. Afro-Asiatic
2.4.1. Semitic
2.4.1.1. Arabic
2.4.1.2. Tigrigna
2.4.1.3. Amharic
2.4.1.4. Hebrew
2.4.2. Chadic
2.4.2.1. Hausa
2.4.3. Cushitic
2.4.3.1. Oromo
2.4.3.2. Somali
2.4.4. Berber
2.5. Indo-European
2.5.1. Balto-Slavic
2.5.1.1. East Slavic
2.5.1.1.1. Ukrainan
2.5.1.1.2. Belerusan
2.5.1.1.3. Russian
2.5.1.2. West Slavic
2.5.1.2.1. Czech
2.5.1.2.2. Slovak
2.5.1.2.3. Polish
2.5.1.3. South Slavic
2.5.1.3.1. Serbo-Crotian
2.5.1.3.2. Bulgarian
2.5.2. Indo-Iranian
2.5.2.1. Iranian
2.5.2.1.1. Balochi
2.5.2.1.2. Tajik
2.5.2.1.3. Pashto
2.5.2.1.4. Farsi
2.5.2.1.5. Kurdish
2.5.2.2. Indo-Aryan
2.5.2.2.1. Maithili
2.5.2.2.2. Nepali
2.5.2.2.3. Lahnda
2.5.2.2.4. Bhojpuri
2.5.2.2.5. Urdu
2.5.2.2.6. Konkani
2.5.2.2.7. Marathi
2.5.2.2.8. Sinhalese
2.5.2.2.9. Hindi
2.5.2.2.10. Sindhi
2.5.2.2.11. Oriya
2.5.2.2.12. Bengali
2.5.2.2.13. Gujarati
2.5.2.2.14. Assamese
2.5.2.2.15. Kasmiri
2.5.3. Romance
2.5.3.1. Sicilian
2.5.3.2. Italian
2.5.3.3. Romanian
2.5.3.4. Neapolitan
2.5.3.5. Spanish
2.5.3.6. Catlan
2.5.3.7. French
2.5.3.8. Haitian Creole
2.5.3.9. Portuguese
2.5.3.10. Lombard
2.5.3.11. Venetian
2.5.4. Germanic
2.5.4.1. North Germanic
2.5.4.1.1. Danish
2.5.4.1.2. Norwegian
2.5.4.1.3. Sweden
2.5.4.2. West Germanic
2.5.4.2.1. English
2.5.4.2.2. Gernan
2.5.4.2.3. Afrikaans
2.5.4.2.4. Dutch
3. Austric
3.1. Austronesian
3.1.1. Tagalog
3.1.2. Filipino
3.1.3. Madurese
3.1.4. Malay
3.1.5. Bikol
3.1.6. Sunda
3.1.7. Minangkabau
3.1.8. Malagasy
3.1.9. Indonesian
3.1.10. Llocan
3.1.11. Javanese
3.1.12. Hilgaynon
3.1.13. Cebuano
3.2. Austro-Asiatic
3.2.1. Khmer
3.2.2. Santali
3.2.3. Vietnamese
4. Sino-Caucasian
4.1. Sino-Tibetan
4.1.1. Sinitic
4.1.1.1. Wu
4.1.1.2. Min
4.1.1.3. Yue
4.1.1.4. Hakka
4.1.1.5. Mandarin
4.1.1.6. Jinyu
4.1.1.7. Xiang
4.1.1.8. Gan
4.1.2. Tibeto-Burman
4.1.2.1. Burmese
5. Quechan
6. Tai-Kadai
6.1. Zhuang
6.2. Tai
7. Nilo-Saharan
8. Hmong
9. Benue-Congo
9.1. Yoruba
9.2. Shona
9.3. Nyanja
9.4. Rwanda
9.5. Gikuyu
9.6. Luba
9.7. Rundi
9.8. Kongo
9.9. Xhosa
9.10. Sesotho
9.11. Sukuma
9.12. Tswana
9.13. Zulu
9.14. Igbo
10. Niger-Congo
10.1. Mande
10.1.1. Mandingo
10.2. Gur
10.2.1. Moore
10.3. Kwa
10.3.1. Akan
10.4. Atlantic
10.4.1. Fula
11. Guarani
12. Japanese
13. Korean
14. Hfjcjckcick