DEMOSTRATIVE PRONOUN
por Veronica Valencia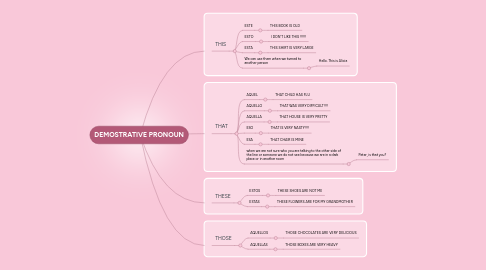 1. THOSE
1.1. AQUELLOS
1.1.1. THOSE CHOCOLATES ARE VERY DELICIOUS
1.2. AQUELLAS
1.2.1. THOSE BOXES ARE VERY HEAVY
2. THIS
2.1. ESTE
2.1.1. THIS BOOK IS OLD
2.2. ESTO
2.2.1. I DON'T LIKE THIS !!!!!!
2.3. ESTA
2.3.1. THIS SHIRT IS VERY LARGE
2.4. We can use them when we turned to another person
2.4.1. Hello. This is Alicia
3. THAT
3.1. AQUEL
3.1.1. THAT CHILD HAS FLU
3.2. AQUELLO
3.2.1. THAT WAS VERY DIFFICULT!!!!
3.3. AQUELLA
3.3.1. THAT HOUSE IS VERY PRETTY
3.4. ESO
3.4.1. THAT IS VERY NASTY!!!!
3.5. ESA
3.5.1. THAT CHAIR IS MINE
3.6. when we are not sure who you are talking to the other side of the line or someone we do not see because we are in a dark place or in another room
3.6.1. Peter, is that you?
4. THESE
4.1. ESTOS
4.1.1. THESE SHOES ARE NOT ME
4.2. ESTAS
4.2.1. THESE FLOWERS ARE FOR MY GRANDMOTHER