REPORTED SPEECH
por María Jesús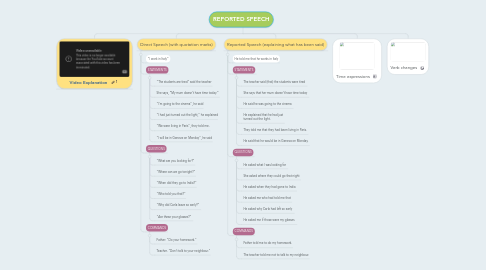 1. Direct Speech (with quotation marks)
1.1. "I work in Italy"
1.2. STATEMENTS
1.2.1. "The students are tired" said the teacher
1.2.2. She says, "My mum doesn't have time today."
1.2.3. "I'm going to the cinema", he said
1.2.4. "I had just turned out the light," he explained
1.2.5. "We were living in Paris", they told me.
1.2.6. "I will be in Geneva on Monday", he said
1.3. QUESTIONS
1.3.1. "What are you looking for?"
1.3.2. "Where can we go tonight?"
1.3.3. "When did they go to India?"
1.3.4. "Who told you that?"
1.3.5. "Why did Carla leave so early?"
1.3.6. "Are these your glasses?"
1.4. COMMANDS
1.4.1. Father: "Do your homework."
1.4.2. Teacher. "Don't talk to your neighbour."
2. Reported Speech (explaining what has been said)
2.1. He told me that he works in Italy
2.2. STATEMENTS
2.2.1. The teacher said (that) the students were tired
2.2.2. She says that her mum doesn't have time today
2.2.3. He said he was going to the cinema
2.2.4. He explained that he had just turned out the light.
2.2.5. They told me that they had been living in Paris.
2.2.6. He said that he would be in Geneva on Monday.
2.3. QUESTIONS
2.3.1. He asked what I was looking for
2.3.2. She asked where they could go that night
2.3.3. He asked when they had gone to India
2.3.4. He asked me who had told me that
2.3.5. He asked why Carla had left so early
2.3.6. He asked me if those were my glasses
2.4. COMMANDS
2.4.1. Father told me to do my homework.
2.4.2. The teacher told me not to talk to my neighbour.
3. Verb changes
4. Time expressions
5. Video Explanation