The Universe and the Solar System
por IratxeYAna García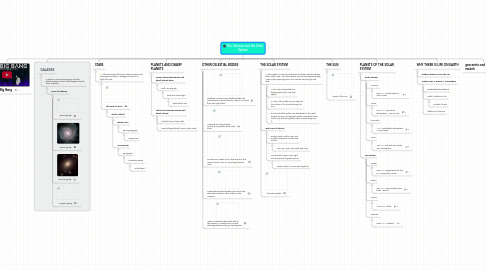 1. GALAXIES
1.1. A galaxy is an enormous group of stars, planets, gases and dust held together by the force of gravity
1.1.1. Types of galaxies:
1.1.1.1. Barred galaxy
1.1.1.2. Espiral galaxy
1.1.1.3. Eliptical galaxy
1.1.1.4. Irregular galaxy
2. The Big Bang
3. PLANETS AND DWARF PLANETS
3.1. Comun things that planets and dwarf planets have:
3.1.1. Both are planets
3.1.1.1. Both don't emit light
3.1.1.1.1. Both orbit a star
3.2. Diferences between planets and dwarf planets
3.2.1. Planets have a clean orbit
3.2.2. Dwarf plaanets didn't have a clean orbit
4. STARS
4.1. Stars are large balls of gas which produce and emit great amounts of energy in the form of light and heat.
4.1.1. Life circle of stars:
4.1.1.1. Stellar Nebula
4.1.1.1.1. Massive star
4.1.1.1.2. Average star
5. OTHER CELESTIAL BODIES
5.1. Satellites or moons are celestial bodies that orbit planets or dwarf planets. They do not emit their own light either.
5.2. Asteroids are rocky bodies, smaller than planets, which orbit a star.
5.3. Comets are masses of ice, dust and rock that move around a star in a very long elliptical orbit.
5.4. Meteorites are solid bodies that comes from asteroids,comets or other matter in the universe.
5.5. When a meteorite enters the Earth´s atmosphere, it usually burns up and desintegrates,becoming a shooting star.
6. THE SOLAR SYSTEM
6.1. A Solar System is a group of planets and other celestial bodies which orbit a star. Our Solar System was formed approximately 4 600 million years ago from an immense cloud of gas and dust.
6.1.1. 1.The cloud contracted and began spinning to very high speed
6.1.2. 2.Most of the matter accumulated at the centre of the cloud,forming the Sun.
6.1.3. 3.The rest of the matter was distributed in the orbit around the sun. The densest matter remainded closer to the Sun and the lightest matter moved away from it.
6.2. Two types of planets
6.2.1. Rocky planet: small in size and mainly composed of rocks and metals.
6.2.1.1. Mercury, Venus, The Earth and Mars.
6.2.2. Gas planets: large in size, light and composed of gases and ice.
6.2.2.1. Jupiter, Saturn, Uranus and Neptune.
6.3. The Solar System
7. THE SUN
7.1. Layers of the Sun
8. PLANETS OF THE SOLAR SYSTEM
8.1. Rocky planets
8.1.1. Mercury:
8.1.1.1. 0,39 AU - No atmosphere - -80º to 430º
8.1.2. Venus:
8.1.2.1. 0,72 AU - Very dense atmosphere - 120º to 480º
8.1.3. The Earth:
8.1.3.1. 1 AU - Breathable atmosphere - Liquid water
8.1.4. Mars:
8.1.4.1. 1,52 AU - Soil with iron oxide - Thin atmosphere
8.2. Gas planets
8.2.1. Jupiter
8.2.1.1. 5,20 AU - Largest planet in the SS - Covered by clouds
8.2.2. Saturn
8.2.2.1. 9,54 AU - Lower density than water - RINGS
8.2.3. Uranus
8.2.3.1. 19,18 AU - Tilted
8.2.4. Neptune
8.2.4.1. 30,06 AU - Mathane
9. WHY THERE IS LIFE ON EARTH
9.1. Medium distance from the Sun
9.2. Medium size = Gravity = Atmosphere
9.2.1. Breatheable atmosphere
9.2.2. Earth´s rotation in 24h
9.2.2.1. suitable climate
9.2.3. Radiation Protection
10. geocentric and heliocentric models