los momentos, las epocas, la evolucion de la ciudadania
por harlin eduardo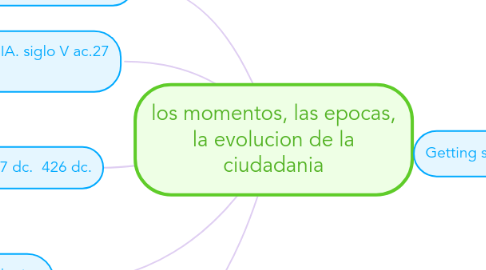 1. Stay in the Know
1.1. Follow our blog to never miss an important update, downtime warning or tutorial!
2. Edad media, renacimientoy ciudaddania . 476 dc. 1492dc.
2.1. Download our native mobile apps for iOS and Android to mind map on the go!
3. Edad antigua GRECIA. siglo V ac.27 dc.
3.1. cuna de la democracia
3.1.1. ciudadania activa
3.1.1.1. principios fundamentales
3.1.1.1.1. Igualdad,libertad,participacion
4. prehistoria 8000 ac. 3000 ac
4.1. organizaciones primitivas
4.1.1. patriarcales y matriarclaes
4.1.1.1. clanes y tribus.
5. Roma siglo 27 dc. 426 dc.
5.1. nacimiento del habeas corpus
5.2. considerandose todos iguales ante la ley.
6. Getting started
7. By the way, this is a floating topic. To create a floating topic, simply drag it away from the map center.