Professional Directory Website
Richa Jainにより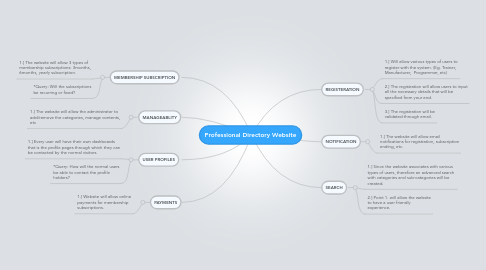 1. REGISTERATION
1.1. 1.] Will allow various types of users to register with the system. (Eg. Trainer, Manufacturer, Programmer, etc)
1.2. 2.] The registration will allow users to input all the necessary details that will be specified from your end.
1.3. 3.] The registration will be validated through email.
2. NOTIFICATION
2.1. 1.] The website will allow email notifications for registration, subscription ending, etc.
3. SEARCH
3.1. 1.] Since the website associates with various types of users, therefore an advanced search with categories and sub-categories will be created.
3.2. 2.] Point 1. will allow the website to have a user friendly experience.
4. MEMBERSHIP SUBSCRIPTION
4.1. 1.] The website will allow 3 types of membership subscriptions: 3months, 6months, yearly subscription.
4.2. *Query: Will the subscriptions be recurring or fixed?
5. MANAGEABLITY
5.1. 1.] The website will allow the administrator to add/remove the categories, manage contents, etc
6. USER PROFILES
6.1. 1.] Every user will have their own dashboards that is the profile pages through which they can be contacted by the normal visitors.
6.2. *Query: How will the normal users be able to contact the profile holders?
7. PAYMENTS
7.1. 1.] Website will allow online payments for membership subscriptions.