Region IV-A CALABARZON
by Savina Blanco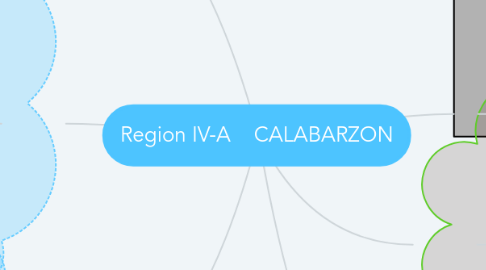 1. Calabarzon, formally known as Southern Tagalog Mainland and designated as Region IV-A, is an administrative region in the Philippines
2. Provinces:
2.1. Batangas
2.2. Cavite
2.3. Laguna
2.4. Rizal
2.5. Quezon
3. History:
3.1. On June 5, 1901, a convention was called on whether or not the province of Manila should annex the province of Morong, which was found to be unable to be self-sufficient as a province. Eventually, on June 11, Act No. 137 of the First Philippine Commission abolished Morong and created a new province, named after the Philippines' national hero, Jose Rizal, who, coincidentally, was a native of Laguna. The new province comprised 29 municipalities, 17 from Manila and 12 from Morong. In 1902, Macario Sakay, a veteran Katipunan member, established the Tagalog Republic in the mountains of Rizal. Ultimately, Sakay's Tagalog Republic ended in 1906 when he and his men were betrayed under the guise of holding a national assembly aimed at the self-determination of the Filipino people.[8]
4. Geography:
4.1. CALABARZON is the 12th largest region in the Philippines, with an area of 16,873.31 km2. The region itself is relatively flat, but also consists of coastal areas and highlands.[14] CALABARZON is bordered by Manila Bay in the west, Metro Manila, Bulacan, and Aurora in the north, Lamon Bay and Bicol in the east, and the Isla Verde Passage in the south. Each province in the region is composed of different environments, ranging from low coastal areas to rugged mountainous ones.
5. Economy:
5.1. Calabarzon is the second largest contributor to the national GDP, accounting for 17% of the gross domestic product. The region boasts a 2.1% inflation rate, lower than the national average of 3%. The region has a 9.2% unemployment rate which is higher than the national average of 7%. Calabarzon, much like the rest of the country, is caught in the middle of being an industrial and an agricultural economy.
6. Tourist attractions:
6.1. Cavite: Corregidor Island tour
6.2. Rizal: Mount Daraitan & Tinipak River
6.3. Batangas: Matabungay beach
6.4. Quezon: Kamay ni Hesus shrine
6.5. Laguna: Enchanted Kingdom