NERVOUS SYSTEM
by Jazz Maruo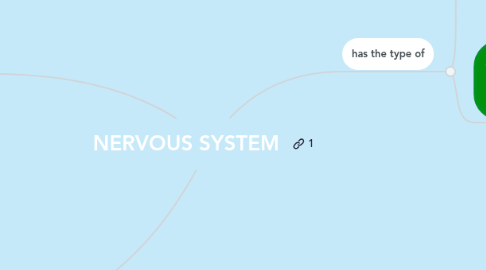 1. is a complicated reticulation that consist of cells and nerves. Those two vital coordinators sends signals from the spinal cord and to the brain. In the nervous system, they consist of neurons that attaches in certain display that contains,"property of conducting", which has a advantage to the stimuli because it stimulates the stimuli.
2. has the type of
2.1. SOMATIC NERVOUS SYSTEM
2.1.1. correlates
2.1.1.1. the movement of the body
2.2. AUTONOMIC NERVOUS SYSTEM
2.2.1. has types
2.2.1.1. SYMPATHETIC DIVISION
2.2.1.1.1. counters to
2.2.1.2. ENTERIC DIVISION
2.2.1.2.1. controls
2.2.1.3. PARASYMPATHETIC DIVISION
2.2.1.3.1. is responsibility for
3. example of
3.1. CENTRAL NERVOUS SYSTEM
3.1.1. is
3.1.1.1. a colossal part of the nervous system which consist of spinal cord and the brain.