Zlonamjerni Sadržaji S Interneta
by Cookie 1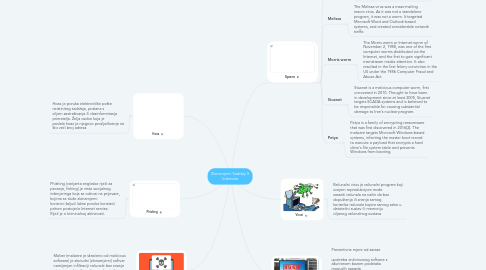 1. Spam
1.1. WannaCry
1.1.1. WannaCry, također poznat po imenu WanaCrypt0r 2.0,[2] jest ransomware (ucjenjivački softver, vrsta zlonamjernog softvera). Koristio se u masivnom cyber-napadu u maju 2017. kojim je zaraženo 75.000 računara u 99 zemalja.
1.2. Melissa
1.2.1. The Melissa virus was a mass-mailing macro virus. As it was not a standalone program, it was not a worm. It targeted Microsoft Word and Outlook-based systems, and created considerable network traffic
1.3. Morris worm
1.3.1. The Morris worm or Internet worm of November 2, 1988, was one of the first computer worms distributed via the Internet, and the first to gain significant mainstream media attention. It also resulted in the first felony conviction in the US under the 1986 Computer Fraud and Abuse Act.
1.4. Stuxnet
1.4.1. Stuxnet is a malicious computer worm, first uncovered in 2010. Thought to have been in development since at least 2005, Stuxnet targets SCADA systems and is believed to be responsible for causing substantial damage to Iran's nuclear program.
1.5. Petya
1.5.1. Petya is a family of encrypting ransomware that was first discovered in 2016[2]. The malware targets Microsoft Windows-based systems, infecting the master boot record to execute a payload that encrypts a hard drive's file system table and prevents Windows from booting.
2. Hoax
2.1. Hoax je poruka elektroničke pošte neistinitog sadržaja, poslana s ciljem zastrašivanja ili dezinformiranja primatelja. Želja osobe koja je poslala hoax je njegovo prosljeđivanje na što veći broj adresa.
3. Phishing
3.1. Phishing (varijanta engleske riječi za pecanje, fishing) je vrsta socijalnog inženjeringa koja se odnosi na prijevare, kojima se služe zlonamjerni korisnici šaljući lažne poruke koristeći pritom postojeće Internet servise. Riječ je o kriminalnoj aktivnosti.
4. Malvare
4.1. Malver (malware je skraćeno od malicious software) je zloćudni (zlonamjerni) softver namijenjen infiltraciji računala bez znanje njegovog vlasnika, odnosno korisnika. Softver se klasificira kao malver ovisno o njegovoj (štetnoj) namjeni.
5. Preventivne mjere
5.1. Preventivne mjere od zaraze upotreba antivirusnog softvera s ažuriranom bazom podataka mogućih napada redovito nadograđivati (update) operacijski sustav i najkorištenije aplikacije kao što su Microsoft Office, Adobe Reader, Mozilla Firefox i dr.
6. Virusi
6.1. Računalni virus je računalni program koji svojom reprodukcijom može zaraziti računala na način da bez dopuštenja ili znanja samog korisnika računala kopira samog sebe u datotečni sustav ili memoriju ciljanog računalnog sustava.