World-wide educational innovation (1) (Practitioners, Researchers and Policy Makers)
by
John Cuthell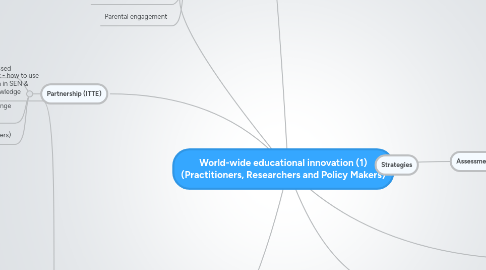 0.0
stars - reviews range from
0
to
5
World-wide educational innovation (1) (Practitioners, Researchers and Policy Makers)
what opportunities there are
Achievement for All Agenda
Teaching and learning
Wider opportunities
Leadership management
Parental engagement
Strategies
Useful resources
UNESCO Report
New node
Assessment for learning
Should Assessment inform the learner
Can ICT support formative & informative learning?
Partnership (ITTE)
Absence of Becta - is missed
Shift in way we think of management of change in schools. Vacuum left by Becta
Teachers (& learners as researchers)
Strategic issues
Questions: small step assessment - how to use ICT to support esp SEND children in SEN & mainstream schools. Sharing knowledge
Sharing information. Parental need for real time assessment - engage in dialogue eg key targets
Importance of research evidence. Provenance - anecdote/robust. Rigorous methodology
Importance of fully involving children in learning journey. Use of ICT?
Significance of poverty/wealth
Removing barriers, engaging parents, learning from each other
New node
Twitter contributions Friday 13th January afternoon
#mmafa Combining an online concept map, a video stream and a Twitter stream with the F2F meeting for Global Education Innovation. cyberbrikkie John Cuthell
Margaret Cox
Dr Mary Webb
@eyebeams: Achievement for all from an iphone - LIVE at bambuser.com/v/2282931 #bett2012 #MMAFA rslosek Rosie Slosek
we can look at the vacuum left by BECTa in either a positive or a negative way.. #mmafa mattpearson Matthew Pearson
#mmafa Sarah Younie on ways in which ICT impacts on vulnerable or disengaged learners. cyberbrikkie John Cuthell
Everyone enjoys learning new stuff . so get the parents involved in learning at the school, and that will engage vulnerable learners #mmafa mattpearson Matthew Pearson
#mmafa The mismatch between the use and potential of ICT for learning. cyberbrikkie John Cuthell
Sarah Younie
Back in Wales - big thanks to @eyebeams @cyberbrikkie @theokk and all at #mmafa for comments/opportunity to present sangeet Sangeet Bhullar
Well done and thank you to the students helping at #MMAFA rslosek Rosie Slosek
very rare face to face conversation with @tonyparkin at the #mmafa session, nearly all our contact is on twitter…. mattpearson Matthew Pearson
Thanks to mirandanet and #MMAFA and all the staff for excellent discussions and ideas share look forward to much more #BETT_show cliffmanning cliff manning
RT @rslosek: Well done and thank you to the students helping at #MMAFA sangeet Sangeet Bhullar