Who is Jesus
by Scott Kruse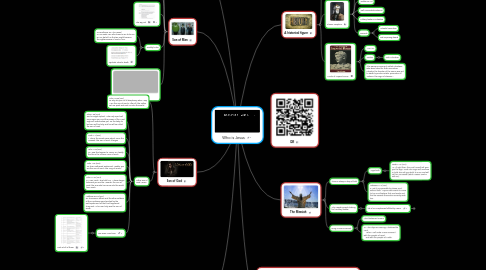 1. A historical figure
1.1. "No record of Crucifixion"
1.1.1. Not surprising
1.1.2. No records of Peasants
1.2. Flavius Josephus
1.2.1. History of Jewish people
1.2.2. Written 93 Ad
1.2.3. Well connected aristocrat
1.2.4. Military leader in Palestine
1.2.5. Records
1.2.5.1. Unlawful execution
1.2.5.2. Did surprising deeds
1.3. Annals of Imperial Rome
1.3.1. 116 A.D.
1.3.2. Tacitius
1.3.2.1. Not a Christian
1.3.3. "the persons commonly called Christians, who were hated for their enormities. Christus, the founder of the name, was put to death by Pontius Pilate, procurator of Judea in the reign of Tiberius."
2. The Messiah
2.1. There is always a step of faith
2.1.1. Virgin birth
2.1.1.1. Isaiah 7:14 (NLT) 14 All right then, the Lord himself will give you the sign. Look! The virgin will conceive a child! She will give birth to a son and will call him Immanuel (which means 'God is with us').
2.1.2. Hebrews 11:6 (NLT) 6 And it is impossible to please God without faith. Anyone who wants to come to him must believe that God exists and that he rewards those who sincerely seek him.
2.2. Why Jewish people looking for a military leader.
2.2.1. list of OT Prophecies fulfilled by Jesus
2.2.1.1. Shot list, there are at least 456 according to Scholar Alfred Edersheim, a Jewish Rabbi.
2.3. Bring a New Covenant
2.3.1. What testament means
2.3.2. 31 "The days are coming," declares the Lord, "when I will make a new covenant with the people of Israel and with the people of Judah.
3. Son of Man
3.1. Rene Magritte
3.2. The God Man
3.2.1. Two Natures in one person
3.3. The Big List
3.4. Qualify to die
3.4.1. 2 Corinthians 5:21 (NASB95) 21 He made Him who knew no sin to be sin on our behalf, so that we might become the righteousness of God in Him.
3.4.2. Symbols Christ's death
3.5. The Bible Project
4. My best friend
5. Son of God
5.1. John 10:36 (NLT) 36 why do you call it blasphemy when I say, 'I am the Son of God'? After all, the Father set me apart and sent me into the world.
5.2. Other son of God Verses
5.2.1. Luke 1:35 (NLT) 35 The angel replied, "The Holy Spirit will come upon you, and the power of the Most High will overshadow you. So the baby to be born will be holy, and he will be called the Son of God.
5.2.2. Mark 1:1 (NLT) 1 This is the Good News about Jesus the Messiah, the Son of God. It began
5.2.3. John 1:34 (NLT) 34 I saw this happen to Jesus, so I testify that he is the Chosen One of God."
5.2.4. John 1:49 (NLT) 49 Then Nathanael exclaimed, "Rabbi, you are the Son of God—the King of Israel!"
5.2.5. John 11:27 (NLT) 27 "Yes, Lord," she told him. "I have always believed you are the Messiah, the Son of God, the one who has come into the world from God."
5.2.6. Matthew 27:54 (NLT) 54 The Roman officer and the other soldiers at the crucifixion were terrified by the earthquake and all that had happened. They said, "This man truly was the Son of God!"
5.2.7. See even more here
5.2.7.1. Look at all of these
6. QR
7. Article
8. Rock Talk Video