Unit 2 main themes and concepts relating to Outdoor Adventure Education (OAE)
by Tristan Nelson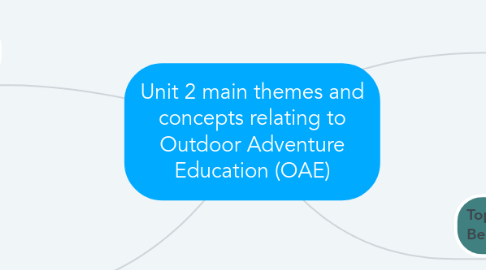 1. Topic 1 - Becoming resilient and why this is important as a student and in a wider context.
1.1. Becoming resilient when working is important because it helps to control stress and anxiety. Resilience is accomplished by going out of your comfort zone and trying new things. This is why in OAE we use the 'challenge by choice' method this allows you to undertake new challenges.
2. Topic 2 - Learning agility - Becoming a lifelong learner.
2.1. Learning agility is linked with Neurology Linguistic Programming (O'connor 2001) which helps a learner to rapidly learn new things which makes the learner more employable and a more competent student. This also links to experiential learning which is heavily used within OAE to create a constant reflective process creating a life long learner (Kolb, 1984). This directly links to topic 4 and reflection.
3. Topic 3 - The Holistic approach - Physical literacy
3.1. A Holistic approach to OAE is important as it meets all the main aspects of a holistic approach which is shown by the"Dynamic Equilibrium Theory" (Dodge et al, 2012, p .9). Having a Holistic approach also links to wellbeing which is important so that work is completed to a high standard. It is shown that nature can have a direct impact on this wellbeing (Wilson, 1984). Physical literacy is important in OAE as there is a strong emphasis on staying active and doing it in an enjoyable way, this will allow for work to be done more efficiently.
4. Topic 4 - Reflection - Relaxed Mind set
4.1. Reflecting on past work allows for improvement in skills and also allows for new skills and knowledge to be gained through good reflective techniques using either Gibbs (1988) or Kolb (1984). This reflection can not be done correctly, however, without the proper mindset which must be relaxed in order to not be confused by other over wellbing thoughts.