DC Q4j Truth
by Mike Johnson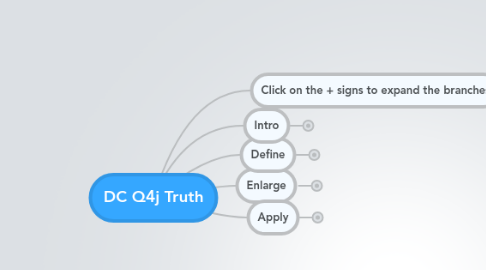 1. Enlarge
1.1. The Word
1.1.1. "Heaven and earth shall pass away, but my words shall not pass away."— Matt. 24:35
1.1.2. John 17:17. Thy word is truth.
1.1.3. Isaiah 25:1. O Lord, thou art my God, I will exalt thee... thy counsels of old are faithfulness and truth.
1.1.4. Psalm 119:142. Thy righteousness is an everlasting righteousness, and thy Law is the truth.
1.1.5. Joshua 23:16. Not one thing hath failed of all the good things which the Lord our God spoke concerning you, all are come to pass unto you, and not one thing hath failed thereof.
1.2. Veracity of His Person
1.2.1. He cannot lie. Titus 1:2
1.2.2. Deuteronomy 32:4. He is the Rock, his work is perfect, for all his ways are judgment; a God of truth, and without iniquity, just and right is he.
1.2.3. Hebrews 10:23. For he is faithful that promised.
1.2.4. Ps 117:2 For his merciful kindness is great toward us: and the truth of the LORD endureth for ever. Praise ye the LORD.
1.2.5. Ps 100:5 For the LORD is good; his mercy is everlasting; and his truth endureth to all generations.
1.2.6. Veracity of God (Berkhof)
1.2.6.1. Metaphysical
1.2.6.1.1. "In Him the idea of the Godhead is perfectly realised" Berkhof p.69
1.2.6.2. Ethically
1.2.6.2.1. "God... reveals Himself as He really is, so that His revelation is absolutely reliable"
1.2.6.3. Logically
1.2.6.3.1. "God is the truth in a logical sense, and in virtue of this, He knows things as they really are, and has so constituted the mind of man that the latter can know, not merely the appearance, but also the reality of things. Thus the truth of God is the foundation of all knowledge.
1.2.7. The Amen God
1.2.7.1. Vines NT words
1.2.7.1.1. Deuteronomy 7:9 Know therefore that the LORD thy God, he is God, the faithful God, which keepeth covenant and mercy with them that love him and keep his commandments to a thousand generations;
1.2.7.1.2. Is 65:16 That he who blesseth himself in the earth shall bless himself in the God of truth; and he that sweareth in the earth shall swear by the God of truth; because the former troubles are forgotten, and because they are hid from mine eyes.
1.2.7.1.3. Is 49:7 Thus saith the LORD, the Redeemer of Israel, and his Holy One, to him whom man despiseth, to him whom the nation abhorreth, to a servant of rulers, Kings shall see and arise, princes also shall worship, because of the LORD that is faithful, and the Holy One of Israel, and he shall choose thee.
1.2.7.2. 2 Cor 1:18-20 18 But as God is true, our word toward you was not yea and nay. 19 For the Son of God, Jesus Christ, who was preached among you by us, even by me and Silvanus and Timotheus, was not yea and nay, but in him was yea. 20 For all the promises of God in him are yea, and in him Amen, unto the glory of God by us.
1.2.7.3. Rev 3:14 And unto the angel of the church of the Laodiceans write; These things saith the Amen, the faithful and true witness, the beginning of the creation of God;
1.2.7.4. Revelation 19:11 And I saw heaven opened, and behold a white horse; and he that sat upon him was called Faithful and True, and in righteousness he doth judge and make war.
2. Define
2.1. Whyte
2.2. Truth vs. relativism (i.e. a polite form of evil)
2.2.1. PI
2.2.1.1. why do people accept that there is 'truth', but not about questions of existence.
2.2.2. Barnes
2.2.3. Antithesis John 8:44. Ye are of your father the Devil, and the lust of your father ye will do: he was a murderer from the beginning, and abode not in the truth, because there is no truth in him; when he speaketh a lie, he speaketh of his own; for he is a liar, and the father of it.
2.2.4. I believe in complexity - I am not a sheer positivist
2.3. 3 'Intellectual Attributes'
2.3.1. wisdom
2.3.2. knowledge
2.3.3. truth
3. Apply
3.1. Guidance: Psalm 25:10. All the paths of the Lord are mercy and truth, unto such as keep his covenant.
3.2. Sanctification: Psalm 51:6. Behold, thou desirest truth in the inward parts.
3.2.1. Sermon this morning (24June2012-1Thes4:3-8) - deception and covering tracks
3.2.2. avoiding sin
3.2.3. Our 'fidelity' to and with God, his person and works, His Son. Is there a family resemblance?
3.2.3.1. 2Cor3:1 Living Epistles
3.3. Judgement: Romans 2:2. But we are sure that the judgement of God is according to truth, against them which commit such things.
3.4. Comfort: Faithfulness
3.4.1. "...He is ever mindful of His covenant and fulfils all the promises which He has made to His people"
3.4.2. ground of confidence, hope, rejoicing
4. Intro
4.1. Rom 3:4 yea, let God be true, but every man a liar; as it is written, That thou mightest be justified in thy sayings, and mightest overcome when thou art judged.
4.2. Read Psalm 91
5. Click on the + signs to expand the branches